People dying before middle age in the oil-scarred Niger Delta, falling ill from the effects of air pollution in Iraq, or contracting fevers, rashes and other water-borne diseases in the midst of Philippine floodwaters…
Though these stories may seem disparate, the organisers of last week's People's Health Hearing, claim they all share a root cause.
"Our own health and the health of our planet are deeply connected," explains Ben Eder, from health campaigning organisation MedAct. Yet stories like these – from the frontline of the climate emergency – were not heard at the negotiating tables of COP26 this month, they argue.
Working with international and Scottish partners they set-up a people's health hearing to make sure that they were given a platform. Held as part of the COP26 Coalition's alternative People's Summit 50 testimonies have so far been collected and will soon be made available online.
Bearing witness
"We wanted to create a space for people to share their stories, to bear witness, and to listen to each other with intention," says Erika Arteaga, co-ordinator of the People's Health Movement, which co-organised the event.
"These are stories about suffering but they are told by people who still have hope that we can fight back against the systems that are killing us all."
And as COP26 delegates pack-up and return home – having agreed a deal that campaigners say shows is a "betrayal of the people" – these, she says, are the voices that should continue to resonate.

Here three activists who gave testimony at the hearing tell their stories. 
Patricia Miranda: The Philippines
"This is what the climate crisis looks like," says Patricia Miranda, a lawyer and public health campaigner from the Philippines, now studying health law at Bristol University.
She is sharing her family photos of last year, when Typhoon Vamco hit their home near Manila in the Philippines. The category four hurricane killed more than a hundred and left devastation in its path.
An average of 20 often deadly tropical storms now hit the Philippines every year and it has been identified as one of those most at risk from the climate crisis.
Miranda explains: "We already feel the urgency from our wind battered and flooded homes and streets and this is the sense of emergency that should have been brought to the COP26 negotiating tables.
"But what you had here was that the most affected were excluded from those discussions."
Her story starts last November, when many in her region were still recovering from "super typhoon" Goni. Three violent tropical storms had already hit in October.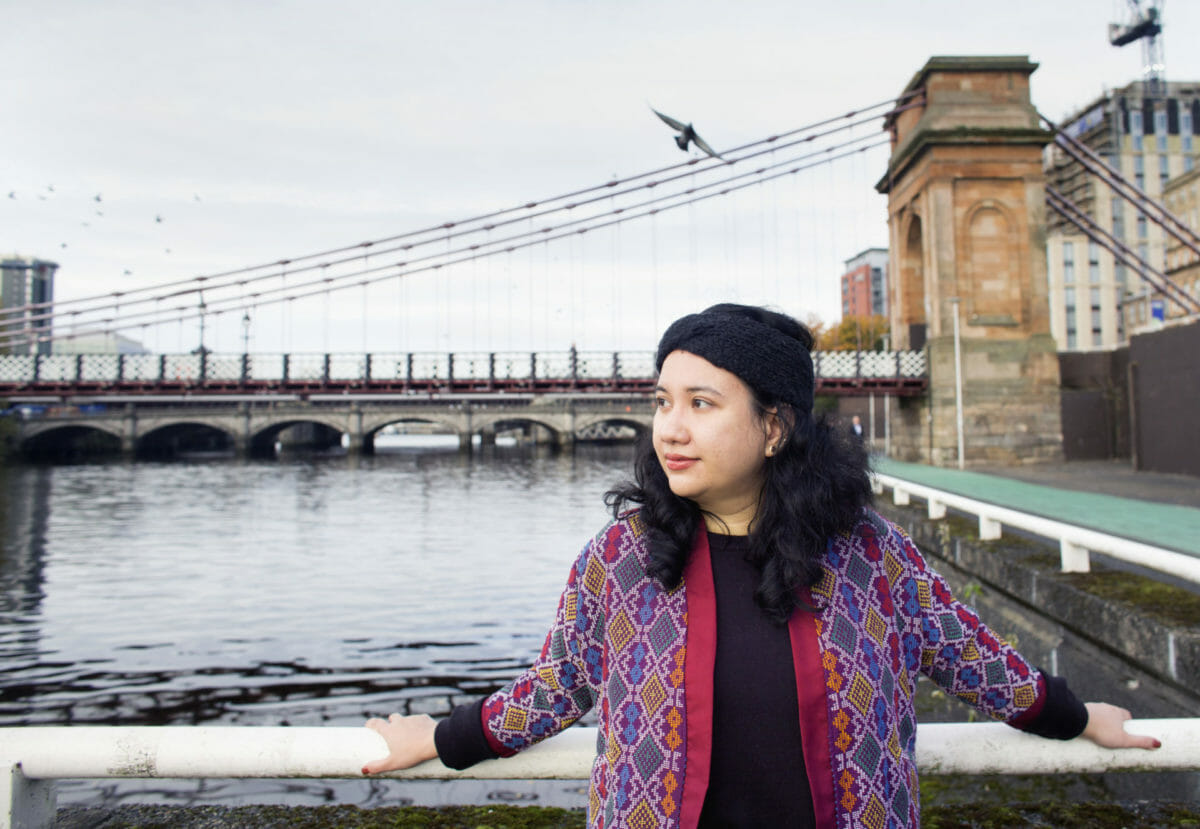 This time the path of Vamco took in her family's home. Along with her father and brother she readied their go-bags for evacuation and sand bags, food and flashlights in case they had to stay put.
"I had been monitoring this storm for work with a UK humanitarian charity," she says. "The night before full impact the winds started to howl. My family and I knew that it would indeed hit us, but we could not have anticipated the extent of the flooding since our house was on relatively higher ground."

In the morning she still logged on to report remotely for work. "Even when something like this happens life continues," she explains. But later she decided to attempt to evacuate.

It wasn't possible. "The waters were so deep," she says. "Just a block from where I live people were wading in water up to their hips and we asked someone: "Is there a way out?" but there was none. So we just went back to our house and shut off the power supply to avoid electrocution and to secure as much as possible. Everything was flooded within three hours."
They spent two days trapped upstairs, but as the waters started to subside on the third day her dad called to her from downstairs, where she found him sitting at the dinner table, having prepared a meal.
"One of our family traditions is when everyone is home they will sit together at the dinner table," she explains. "So we sat there up to our calves in water and ate as if nothing was wrong in that cold and slimy flood water.
"I realised that it was so important to my dad that despite everything we had to hold on to that sense of normalcy," she explains. "I've never felt closer to my family than in that moment than when we sat together in the face of this disaster."
The clean-up began after. The thick mud – infested with sewage and debris – coated everything in their home and an angry blistered rash developed on her legs where they had come into contact with the flood waters.
She knows she is amongst the more privileged. "Within the region there were areas where the water reached above people's heads, where houses and shops were completely submerged. Millions were profoundly affected, and many lost everything," she says.

And while they have worked hard to cope, she is wary of terms like 'resilient', saying they can be "hijacked" by governments and corporations looking to avoid their responsibility to exploited communities. Her ask is clear. "We need urgent action, not lip service and broken promises."
Celestine AkpoBari: Niger Delta, Nigeria 
In Ogoniland, in the Niger Delta, the average life expectancy is less than 50 years old. It is said to be one of the polluted places on earth, its once fertile lands scarred by repeated oil spills and decades of extraction by fossil fuel companies.
Last year – nearly a decade after a clean-up was urged for areas polluted by Shell and other oil companies in the Niger Delta – research by major NGOs including Friends of the Earth Europe and Amnesty International found that work had only started in 11 per cent of the planned sites while vast areas remain heavily contaminated.
Campaigning for change in the midst of this is Celestine AkpoBari, national coordinator at Ogoni Solidarity Forum-Nigeria, who once worked alongside Ken Saro Wiwa, the environmental and political activist executed on 10 November 1995.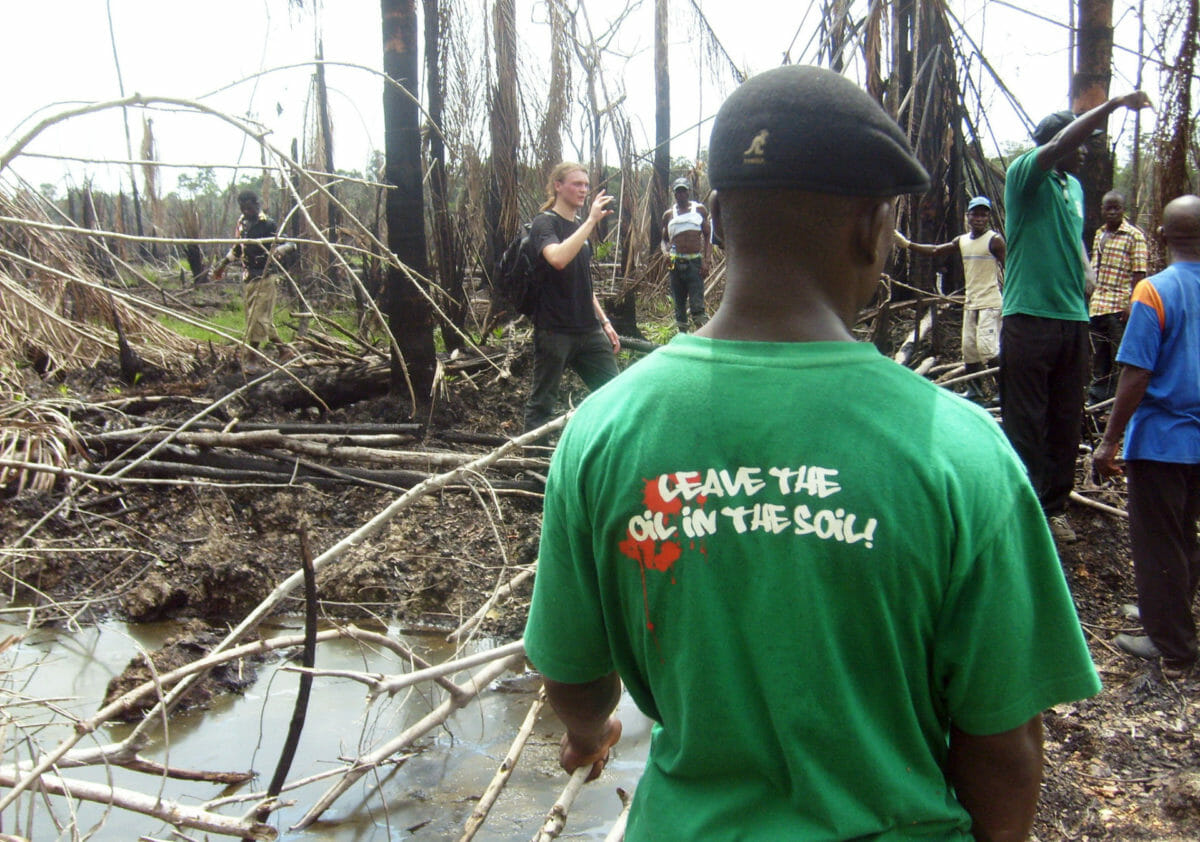 AkpoBari did not attend COP26 and instead stayed at home to arrange the now annual Sara-Wiwa memorial events, joining the people's health hearing by Zoom. "Ogoniland is oil rich but impoverished and economically disempowered Niger Delta," he told The Ferret.
"Oil was discovered in Ogoniland in 1958 but before that it was full of food for our people and for export. But then the oil companies came."
The polluted environment has had a devastating impact on health, he says with "constant flaring very close to human habitation" leading people to inhale soot into their lungs. Fish have deserted the polluted waters and the effects of climate change, including floods, mean crops fail and communities go hungry.
Killing people and planet
Thanks to the activism of campaigners here though, communities now understand the link between the damage done to the environment and the health of its people.
"People were once dying without knowing what was killing them," says AkpoBari. "Two years after the death of Ken Saro Wiwa and others the UN came to assess the environment and they found pollution was widespread and that many people had been exposed."
In Ogoniland today people are still dying, he says, with oil spills commonplace and the water level in levels like benzene. In 2011 it was found at levels 900 times above agreed safe limits. Shell says spills are often due to sabotage, claiming in 2019 that "around 95 per cent of spill incidents from our operations there were due to such criminal acts".
But AkpoBari is adamant that oil production should stop. "It is destroying our health and it is fuelling corruption in Nigeria too," he adds.

COP26 was not going to produce answers, he argues, even if the problems of the Niger Delta had been discussed. "We have a government that is not sincere," he says. "Even when they sign conventions and agreements they do not honour them. In the end it does not make any difference what they discuss at COP26, what they agree – they will not stick to it."

Though there have been some legal and compensation successes, many are still struggling. Activists fight back with workshops on mitigation and adaptation for farmers working polluted lands, tree planting programmes and awareness campaigns.
"We are telling government and corporations to stay away from our oil," he says. "Leave the oil in the soil and exonerate our leaders who were murdered. These are our two most important messages."
A spokesman for the Shell Petroleum Development Company of Nigeria (SPDC) said: "Sabotage, crude oil theft and illegal refining are a major challenge in the Niger Delta. Regardless of cause, we clean up and remediate."
Goran Zangana: Kurdistan, Iraq
How do you tell stories that shine a light on the link between the human health crisis and the environmental one? While reading his children Greta and the Giants – a picture book based on the activism of Greta Thunberg – Goran Zangana, a public health expert from the Kurdistan region of Iraq, started to join the dots.

His campaigning work – linking oil companies to both health and environmental issues in  the Kurdistan region – was at heart also a story of a little girl, he realised, and her fight against the 'giant' might of governments and corporations.
So at last week's people's health hearing he set aside statistics and instead told the true story of 'Hanasa', a Kurdish girl whose parents had lived through decades of genocide, wars and chemical attacks and her fight against the fossil-fuel supported system which denied her healthcare.
"She has been breathless as far as she can remember with a bad cough," he says. The region has reported "alarming" levels of air pollution which come with associated human health risks, especially for children.
The story sounds like a parable. "But Hanasa is a real girl," says Zanganda, a doctor who is now completing a PhD in international public health policy at Edinburgh University. "And her father contacted me because they couldn't afford to get treatment for her congenital heart condition in Kurdistan."
There should have been a children's hospital in Erbil, says Zangana. In 2014 Canadian oil company Oryx Petroleum gave the Kurdistan Regional Government a donation of $45million to build the Kurdistan Children Hospital as part of its social responsibility commitment after securing a lucrative oil exploration contract. 
Access to health care
But after it was built and equipped, it's ownership was transferred by the Kurdistan Government to a private company, operating as the Santelife Hospital, which now sees paying Covid-19 patients, not children like Hanasa.
Zangana found Hasana help through a friend – a doctor in Italy. "The treatment she needed was very expensive but we raised funds, she went to Italy and she is absolutely fine, and just a gorgeous little girl," he says.
Yet he is painfully aware of the many other children who are unable to access health care. "A lot of the health problems are a direct effect of pollution," he says.
"We also have refineries that cause issues with access to clean water. We have high levels of chronic obstructive pulmonary disease (COPD), of lung disease and asthma. Historically the Kurdish region has been impacted by chemical attacks."
It shows how the health of people and planet is linked, he says. "And that link between is greed."
Images of Patricia Miranda by Angela Catlin
This story was produced in tandem with the Sunday National.