"Daesh put its fighters on the top three floors of the hospital while patients were still downstairs…there were even women giving birth," says Asaat Said.
He is in Mosul, speaking to The Ferret outside what remains of one of the Iraqi city's main hospitals, a building completely wrecked after being hit by missiles fired from warplanes.
Pointing upwards, Said says that the airstrike blew a massive hole in the fifth and sixth floors of Al Salam Hospital, the huge blast taking off its roof and shattering every window. A resultant fire spread throughout the building, its walls now blackened with smoke, even down to the basement where patients were moved to for safety as Islamic State fought with Iraqi soldiers.
Said worked in the pediatric department of the hospital as a nursing assistant.
"We don't exactly how many (people killed) but yes a lot of people," he says, adding that he and a friend are retrieving undamaged medical equipment for a new hospital nearby that's appropriated the name, Al Salam.
There are chairs, beds and trolleys lying in the sun among twisted metal and other debris. As Said talks, a group of Iraqi teenagers scour the area for scrap metal.
Al Salam Hospital was destroyed by US warplanes. The bombing took place last December, a little under three months after a major offensive began to take back Iraq's second largest city from IS, the Islamist terror group who took control of Mosul in 2014, proclaiming that the ancient city was the capital of its so-called Caliphate.
They ruled Mosul unchallenged until 17th October 2016 when the Battle of Mosul started, IS facing an onslaught from Iraqi forces supported by the Kurds, the US and a coalition of nations including the UK. The fighting has been intense.
The Iraqis do not provide details of their casualties but General Joseph Votel, head of US Central Command, said that 284 Iraqis have been killed and another 1600 wounded since the bid to capture west Mosul started on 19th February. During the three month battle for east Mosul, 490 Iraqis were killed and 3000 wounded.
On the 7th December 2016, the US military admitted that it bombed Al Salam Hospital, saying its Iraqi allies came under fire by IS fighters inside the facility. Centcom said in its statement that the Iraqis requested aerial support during a major push to take the hospital back.
The east of Mosul is under Iraqi control but there is carnage in the west, in the Old City's narrow streets, where an estimated 3000 to 5000 IS terrorists fight an Iraqi army intent on restoring some pride after running from the invaders in 2014.
It is estimated that around 300,000 civilians remain trapped in the west – and the civilian death toll is mounting as the sixth month anniversary of the Battle of Mosul approaches, on 17th April 2017.
We came to the city to document the situation ahead of that juncture and are close to the River Tigris, the famous waterway which snakes down from the north and dissects a city of around one million people. There are loud explosions and the 'ra ta ta tat' of machine gunfire. Our fixer warns that snipers and mortars remain a danger and we must not linger long.
There is a threat from IS sleeper cells. Although east Mosul is under Iraqi control, some IS fighters have shaved their beards in an attempt to remain within the city unnoticed. Others launch attacks on Iraqi forces and civilians.
Iraq's National Security Service (NSS) – a secretive unit – has been tasked with tracking down the remaining fighters. Iraqi intelligence officials estimate dozens of IS fighters and supporters remain in hiding in east Mosul, which amounts to more than 23 square miles of urban neighbourhoods.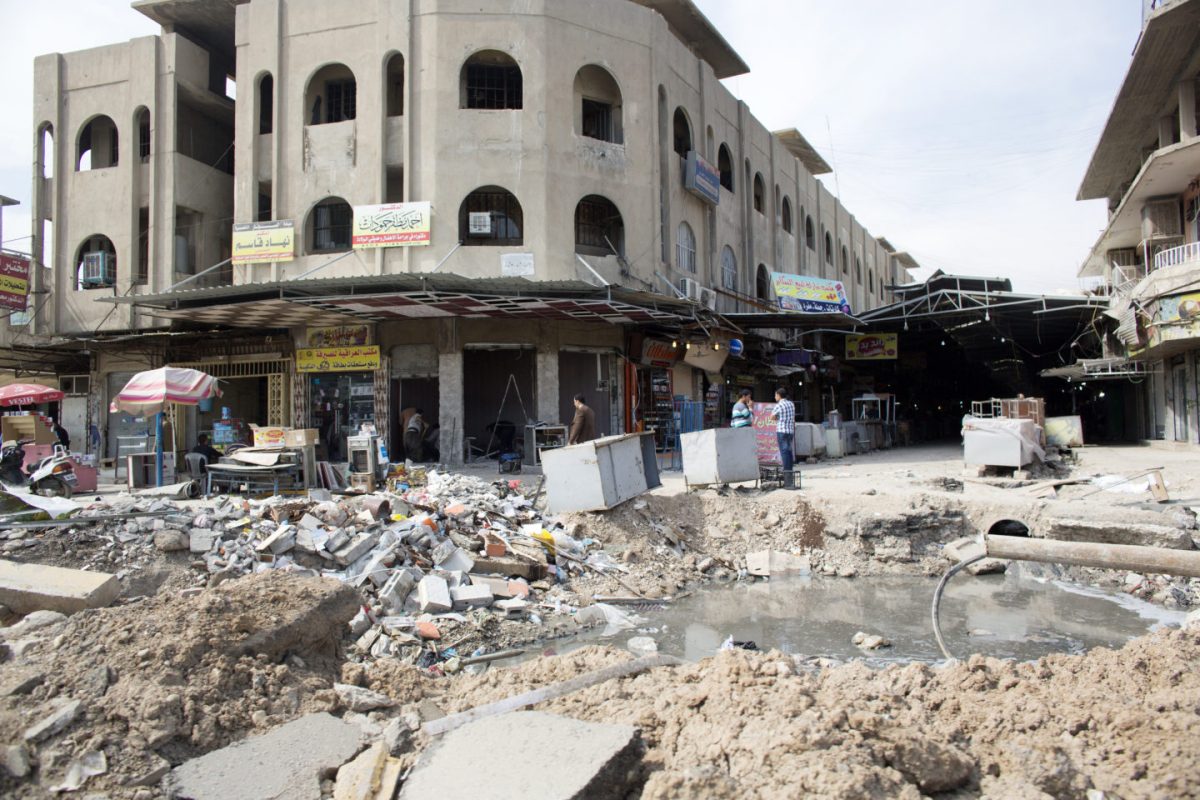 Busy markets and checkpoints have been bombed. IS has used weaponised drones, dropping hand grenades in civilian areas , we're told. In one attack, a suicide bomber blew himself up inside one of the city's most popular restaurants – My Fair Lady – which reopened shortly after Iraqi forces took the east in January.
We entered Mosul from the east, taking a main route from the Kurdish city of Erbil, passing through land controlled by the Peshmerga – the Kurds' military force – into Iraqi territory where heavily armed checkpoints search people and their vehicles. There's been wanton destruction here.
From our car, we see burned out vehicles and collapsed buildings and we drive past piles of concrete rubble and rusty, twisted metal. Our fixer navigates around huge craters in the road made by bombs. Ambulances whizz past with lights flashing as they ferry injured people east into Kurdish territory, where they're rushed to hospitals in Erbil for surgery and life saving treatment. The landscape is toxic, the smell of fuel thick in the air.
As we approach the city centre, smoke can be seen rising in the west where fighting continues, but parts of the east are returning to some kind of 'normality' with some shops re-opened and main streets busy.
We pass Mosul's famous Nineveh ruins and stop briefly in the Jazair district where a barricade of boulders blocks a road, constructed by the Iraqi army. We stop to take a picture and The Ferret's photographer, Angie Catlin, drapes a scarf over her head as we leave the car. A young man appears and walks up to Catlin, and removes it. Smiling, he says in Arabic: "No more Daesh here" – although that's not quite true.
Much of Mosul's civilian population is still suffering hell on earth. Earlier, we saw newly arrived internally displaced persons (IDPs) at the Kurdish border, desperate families who'd left their homes after escaping the killing. They were arguing with an Iraqi army officer, after being told that the Khazer IDP camp a few miles inside Kurdish land was full and they would not get in.
This news caused further distress to these people who said family members were already staying there. After all they've suffered over the past few years – living under IS rule since 2014 and now caught up in carnage – these people are separated from not only their homes, but relatives too, with no idea when they'll be reunited.
An old woman sat in the sun looking utterly dejected. Her name is Balqisa Hassa, the aunt of Inas, a young woman in a black hijab beside her, who was crying. Balquisa sat beside a sewing machine, one of the few possessions she'd managed to carry from her home.
"We want to go to Khazer camp," she said. "My children are there. We are from the east of Mosul but we came out because our lives are bad. We don't have electricity, we don't have enough money or food…we don't have anything. We don't know what to do. We want to go to the other camp (Khazer) because our people are there."
Sitting a few metres away from Balqisa were four young children including a young girl called Saad, who was wearing a white dress with a red pattern. She told us her mother "died of burning". Her father, Nassatt, appeared shortly afterwards and explained that his wife, Jinan, died after an airstrike in west Mosul 10 days ago.
Nassatt has six children – two are with his brother, four with him. I ask what conditions are like in west Mosul? "Unfortunately it's very badly damaged," he replies. "Everything is damaged as you see on the TV, destroyed houses and homes…it's a very very difficult situation right now and people are trying to escape any way." As a bus arrives to take people to another camp, we wish him good luck. He smiles and says: "Inshallah."
As the bus leaves, a Peshmerga officer arrives and claims that some people arriving at the checkpoint are not IDPs, alleging they are abusing the system.
"They paid $10 to come here in a taxi. These people have money. They are abusing the system. The really distressed people come from west Mosul but these are fake," he says pointing to a group of people at the other side of the road.
Whatever the truth, everyone looks both exhausted and traumatised and humanitarian organisations are warning that the on-going battle in Mosul will likely mean hundreds more civilian deaths and tens of thousands more IDPs.
To date, at least 2000 civilians have been seriously injured, possibly many more. Last week, a series of coalition airstrikes demolished an area of Mosul's Jdeideh neighbourhood, killing at least another 150 people.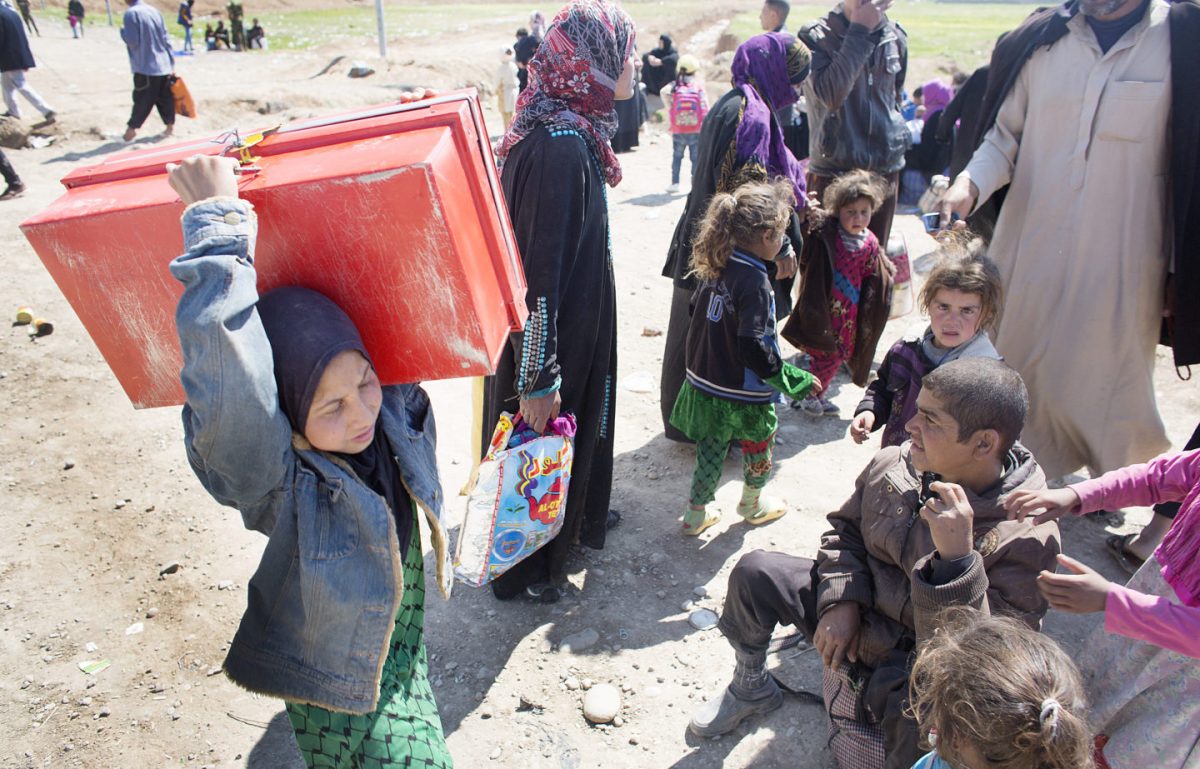 The incident prompted claims that neither US commanders, nor the Iraqi officers who called in the air strikes, had proper regard for civilians caught up in the war. There have also been reports that people trapped in the west are dying of hunger because they've not received food for weeks. The situation sounds dreadful.
Human Appeal is one of the few aid agencies inside Mosul delivering aid to the people. Its head of Mission, Omar Ali, is a 29 year old from Brighton who says that the organisation intends to start delivering aid to the west of the city this week.
He says: "Mosul is in a state of complete destruction – homes, hospitals, schools, infrastructure have all been hit . Parts of the city are either held by ISIL and being bombed by artillery and airstrikes or they are 'liberated' but still being bombed by drones, artillery, rockets and chemical weapons. On the frontline, families are stuck between the crossfire.
Ali adds that two days ago one of Human Appeal's staff lost three family members in a rocket attack on east Mosul. He says that the daily death toll in Mosul is equivalent to the monthly death toll in Eastern Aleppo.
"Displacement from Mosul city alone is escalating – over 110,000 people have fled in less than a month (March), 330,000 in total since the start of the operation on 17th October and now we are expecting 250,000 people to flee Mosul in the coming month as the battle goes to the Old City which is densely populated and the buildings are structurally weak," Ali says.
Every day approx 4000 people flee Mosul. Every hour, 170 people flee Mosul. Every two minutes, a family flees.

Omar Ali, Human Appeal
Meanwhile, Amnesty International reports that hundreds of Iraqi civilians have been killed by US-led airstrikes inside their homes – or in places where they sought refuge – after following Iraqi government advice not to leave during the offensive to recapture the city.
Donatella Rovera, Senior Crisis Response Adviser at Amnesty International, has just carried out field investigations in Mosul. She says that evidence gathered on the ground in east Mosul points to an "alarming pattern of US-led coalition airstrikes which have destroyed whole houses with entire families inside".
"The high civilian toll suggests that coalition forces leading the offensive in Mosul have failed to take adequate precautions to prevent civilian deaths, in flagrant violation of international humanitarian law," she adds.
Pointing to the fact that the Iraqi authorities have repeatedly advised civilians to remain at home instead of fleeing the area, Rovera claims that coalition forces should have known that strikes would result in significant numbers of civilian casualties. She adds that disproportionate attacks and indiscriminate attacks violate international humanitarian law and can constitute war crimes.
It isn't possible to say exactly when IS will be defeated in Mosul but what is certain is that many more innocent people will be killed, or injured, until they are finally routed. IS will fight to the death and they'll continue to use defenceless civilians as human shields – as they did at Al Salam Hospital.
Words and video by Billy Briggs, photography by Angela Catlin. This report was supported by Ferret subscribers.