Words by Billy Briggs, photos by Angie Catlin
At her home in Athens, Anna Stamou pours sweet tea as she talks about some of the horrific attacks on immigrants carried out by Greek neo-Nazis.
She cites the story of Abouzid Embarak, an Egyptian fisherman left with serious head injuries in 2012 after a frenzied assault by men armed with sticks and iron bars. As they battered Embarak at a house in Perama district, south of Athens, someone in the gang reportedly shouted: "We will fuck your whore of a mother…you're going to find out what Golden Dawn means."
Three other immigrant fishermen were also assaulted by the 18 strong gang of men, who wore black t-shirts. Embarak is lucky to be alive. He was in hospital for nearly three weeks. For 33 days he ate through a straw.
"We have had so many incidents," says Stamou who works for the Muslim Association of Greece, adding there have been hundreds of assaults on foreigners by neo-Nazis over the past decade.
She opens her laptop and types the words "Golden Dawn" into a search engine. A raft of startling images flash up: a group of bare chested men giving Nazi salutes: masked thugs with a white power flag wielding batons, a man standing in front of a black and red swastika, Sieg Heiling. "This is Golden Dawn," says Anna pointing at the photos, wide-eyed. "Some of those are parliament members."
I am in Greece with photographer Angie Catlin to investigate violence by neo-Nazis as the trial of an ultra-right political party enters its fifth year, and as far right parties attempt to build a pan-European movement.
The trial of Golden Dawn – accused of orchestrating mafiosa-style mayhem in Greece – began in April 2015. The landmark court case was initially predicted to last around 18 months but has dragged on and pressure is mounting on the nation's Court of Appeal to finally issue its ruling.
Leaders of Golden Dawn – spelt Chrysi Avyi in Greek – are among 69 members of the party facing a range of criminal charges including murder. Elected politicians on trial include Golden Dawn's leader, Nikos Michaloliakos MP, and Ilias Kasidiaris MP, a former special forces commando who has a swastika tattoo.
He and other Golden Dawn leaders are charged with membership of and directing a criminal organisation. Alleged crimes in a long list of related cases in a complex trial include arson, murder, burglary and weapons possession. Whatever the court decides, the ruling will be seismic for Greece and it will resonate widely due to the rise of fascism in Europe once again.
The past electoral success of Golden Dawn has already influenced the resurgence of neo-Nazism internationally. In the US, for example, a neo-Nazi banned from entering the UK in 2015 praised Golden Dawn. Matthew Heimbach, leader of the Traditionalist Workers' Party, said his supporters should follow "the European example of Golden Dawn" and use similar organising tactics.
Similar public praise was extended three years ago in the UK when National Action said in a podcast in 2016 that the now banned terrorist group was inspired by Golden Dawn. This was prior to National Action appearing on the streets of Glasgow for the first time in 2016, with its whites-only foodbank. After being proscribed, as The Ferret reported, National Action morphed into Scottish Dawn before it was banned in September 2017 by the UK Government.
Alex Davies, who founded National Action, said in a podcast: "Their charity work, activism and social work has brought them a respect, some credibility in the eyes of the Greek people.
"That's what gained them those seats in the Greek parliament. They used those resources then, that they gained from being elected to parliament, and they've put it back into the things that have gained them their credibility. And that's how they've gained some momentum. We want to replicate what Golden Dawn were doing in Greece, here in the UK. That's exactly what we want to do."
"These are the people who threaten our lives"
"Let me show you a video, this is a morning (television) show…with a panel," Stamou says as she clicks on a link to a Youtube video. The footage starts and we watch dumbstruck as a heated discussion between politicians on a Greek television show erupts.
Kasidiaris is one of the guests. He throws a glass of water over a female MP called Rena Dourou, then stands up and strikes Liana Kannelli of the Greek Communist Party, three times in the face.
The 2012 incident was broadcast live and caused a sensation in Greece. Kasidiaris claimed afterwards, however, that he was provoked and in 2015 he was cleared of any crime when an Athens court found he did not cause the women grievous bodily harm, as charged.
"These are the people who threaten our lives," says Stamou as she searches for more images and footage. "We have many many videos of them….saluting the Nazi way, with swastikas."
Some of these videos – viewed by The Ferret – have been presented as evidence at the trial by the prosecution. The clips include footage of Christos Pappas MP, a senior Golden Dawn figure who is second in command to the party's leader, Michaloliakos. Pappas is also accused of membership of and directing a criminal organisation.
Video was found on his mobile phone which allegedly shows him teaching children to perform Nazi salutes. In the clip, first published by the Greek newspaper Kathimerini, Pappas can be heard encouraging a young boy, dressed in a traditional Greek costume and wearing a swastika armband, to say "Heil Hitler" while holding a small Nazi flag.
Formed in 1985, Golden Dawn was a fringe group of ultra nationalists but after the Greek economy nosedived in the noughties, the party exploited the situation and whipped up hatred of Islam and immigration while cloaking itself in the blue and white Greek flag.
In 2012 Golden Dawn politicians were elected for the first time when the party won the support of 440,966 Greeks and took seven per cent of the vote, to come third in a national election. Despite sinister rhetoric by the party –  Golden Dawn campaigned against immigration using the slogan "so we can rid this land of filth" – 21 members entered parliament.
The party's electoral success emboldened a significant thuggish element within its ranks and violence escalated on the streets. The height of Golden Dawn's wrath was from around 2010 to 2013 when hundreds of people were targeted in Greece, although neo-Nazi violence is rising once again.
The victims were mainly Muslims, immigrants and trade unionists but Jewish cemeteries and monuments have been desecrated. According to Stamou and other anti-fascists we interviewed, Greek police were often complicit in attacks or turned a blind eye to extreme violence.
Golden Dawn's leaders were arrested on 28 September 2013. It was shortly after the death of Pavlos Fyssas, a popular Greek musician stabbed to death in Athens by a Golden Dawn member. The murder – which forms part of the case against Golden Dawn – sparked demonstrations in Greece and other European cities including Barcelona, Brussels, Paris, Amsterdam, London and Nicosia.
The party has denied the charges, however, and dismissed the trial as a "vast judicial and political conspiracy". Golden Dawn also denies being neo-Nazi. We offered the party the chance to comment for this report but it did not reply to our emails.
Golden Dawn states on its website that it is against the "sinful system of the parties of the political establishment" and "millions of illegal immigrants". The party states: "It fights for a Greece that belongs to the Greeks."
The trial is being monitored by volunteers with Golden Dawn Watch, a group specifically established to report regularly from inside the courtroom. Golden Dawn Watch was set-up by the Hellenic Union for Human Rights and the Council for the Integration of Migrants of the Municipality of Athens, among several other anti-fascist groups. Its volunteers publish verbatim court reports on Facebook and Twitter and its website offers an unmatched archive of the trial.
Budgetary constraints
One of Golden Dawn Watch's members is Lefteris Papagiannakis, deputy mayor of the City of Athens and president of the integration council. We meet in a noisy French cafe in the Greek capital where he talks at length about the far right.
"Our position is that the trial is going well…but pressure is mounting to speed up the process," he says, adding that no cameras have been allowed into the courtroom because Golden Dawn objected and that the court refused to sanction an official recording of the trial due to "budgetary constraints".
This means there would be no record of what is a landmark trial for the Greek nation without Golden Dawn Watch. "It's probably the most important trial of the last decade, probably one of the three most important trials in modern Greek history, so for us there are no budgetary constraints," says Papagiannakis.
Despite the trial damaging the party's credibility, Golden Dawn's parliamentary activities have continued and its power has not been hugely diminished. The party continues to poll around the six to nine per cent level.
In January 2015 Golden Dawn became the third-largest political party in the Hellenic Parliament while in June 2014 at the European elections the party received nine per cent of votes to win three seats in the European Parliament. For the 2019 European Parliament election, which takes place on 23 May, Golden Dawn has been polling around four to six per cent.
Yet the trial has created some problems for Golden Dawn, says Papagiannakis. Many local offices have been closed and some members have left. The party's antics since the trial began have alienated others, he claims. Whenever Golden Dawn comes under pressure in court, their supporters react violently on the streets.
"We've had many times…when something happened during the procedure (which was) very bad for them…some piece of evidence, something that they asked for and didn't happen… something that the prosecutor accepted from the other side, which was damaging for the case – then they react on the streets, they go and beat up some anti-fascist activists, some migrants, whatever," Papagiannakis says.
"Now we see a pattern and the court sees a pattern. People see that whenever the fascists and Nazis are pissed off – and, you know, cornered – they react violently."
Journalists and political opponents of Golden Dawn have also been attacked over the last two years, as well as a female lawyer working with the prosecution team at the trial – Evgenia Kouniaki.
Targeting refugees and others
As the trial drags on racist crimes in Greece are rising again after a sharp fall following the arrests of party members in 2013 – a trend viewed as deeply worrying. A report published in April 2019 by the Racist Violence Recording Network (RVRN) said that last year there were 117 incidents of racist violence and more than 130 victims – up from 2017 when there were 102 attacks. In stark contrast there were 48 incidents in 2016.
The RVRN – which has provided testimony at the trial and consists of 46 non-governmental organisations – was established in 2011 by the Greek National Commission for Human Rights and the Greek Office of UNHCR, the UN Refugee Agency. Its latest report said that 74 victims of far right violence were migrants, refugees or human rights defenders.
In nine incidents sacred Jewish places were targeted while in 27 cases it was the LGBTQI+ community. In 63 incidents, assaults were committed by a group of at least two people.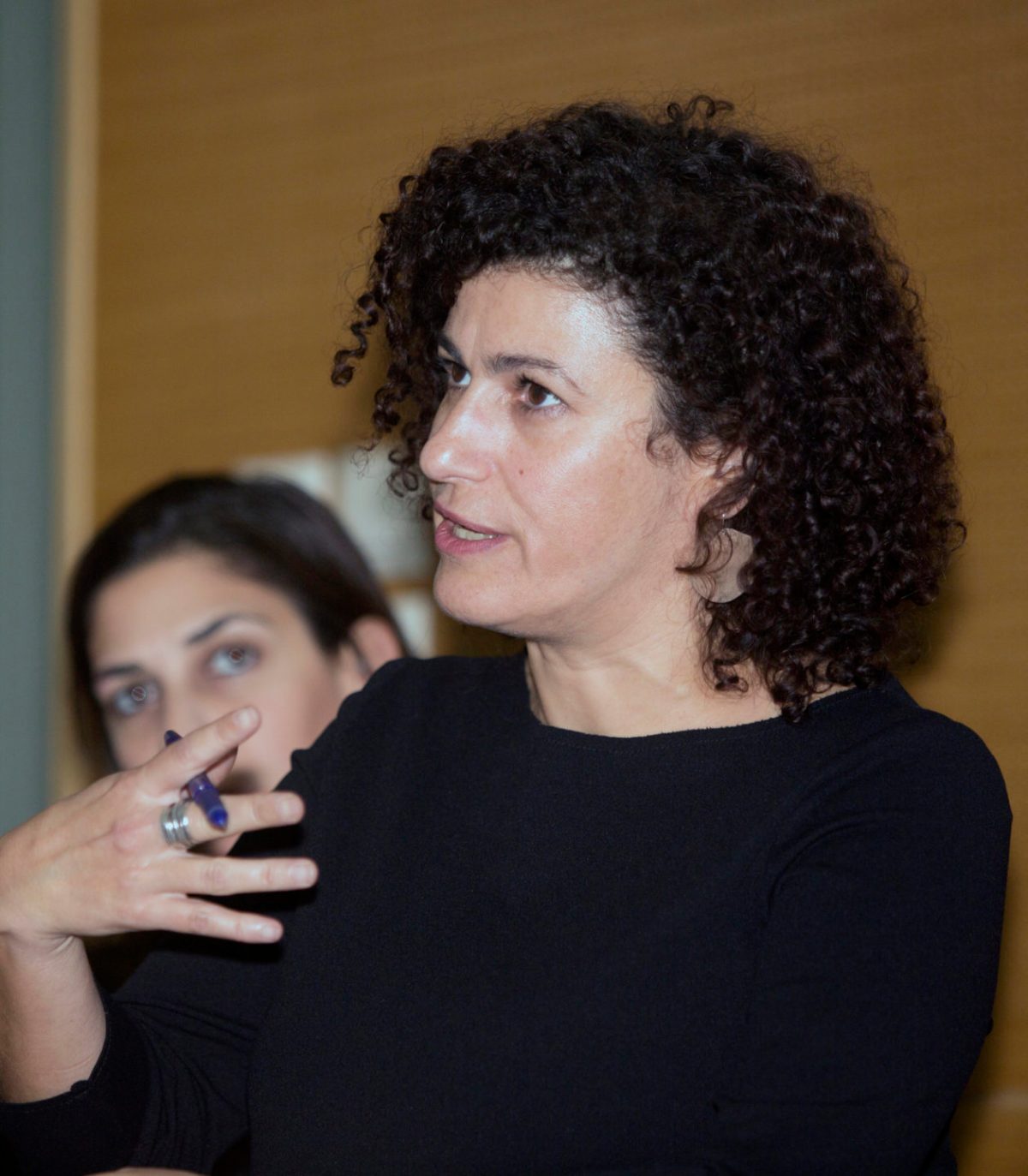 We meet RVRN's Tina Stavrinaki in the Exarcheia neighbourhood of Athens, a graffiti covered place renowned as a hotbed of anti-fascism. Stavrinaki explains how far right violence has been spreading from Greek cities to islands such as Lesbos, which, she says, were previously left wing and "pro refugee".
She cites one incident last summer on Lesbos when refugees were targeted while protesting peacefully about not being allowed to travel to the Greek mainland. Far right nationalists attacked the demonstration – which included women and children – and ten people were hospitalised.
Following the incident, Syriza, Greece's left-wing ruling party, said in a statement the attack was "well-organised action, with murderous intent, by specific extreme right, criminal and hooligan elements that have nothing to do with the island or its traditions."
Stavrinaki explains that ahead of the incident there was a call out on Facebook by right wing groups. One person allegedly inciting violence on social media was believed to be an army officer. Police officers were also allegedly involved in assaulting refugees.
"People were badly hurt and there were families among the refugees and asylum seekers on the square (Sapphous Square) protesting peacefully. This was a dramatic incident because first of all, the public calls on Facebook – not only by Golden Dawn," Stavrinaki says.
"Lesbos used to be left wing and the Communist Party had great support among the population. They were friendly towards refugees. So, now on this island you have people with a far right agenda."
There have been other incidents on Lesbos. A monument for refugees lost at sea was vandalised, a place where the Pope and Greek Orthodox priests performed ceremonies in memory of thousands of people – including many children – who drowned in the ocean trying to cross from Africa to Europe.
Elsewhere, a giant cross was erected on a craggy cliff called Apili, a statement by the far right that refugees were not welcome and the island is Christian. "They said they were trying to defend Greek identity," Stavrinaki says. Last year attacks on refugees and migrants jumped to 74 from 34 in 2017 but she stresses the point that the level of violence is small compared with the 2012-13 period.
Fears are rising though. There's been the emergence of another neo-Nazi cell calling itself Crypteia, an apparent reference to the ancient Spartans who were notorious for terrorising foreign slaves.
This new outfit could be even more extreme than Golden Dawn, according to Elena Vagger of the Hellenic League of Human Rights, who says her organisation was threatened by Crypteia in March 2018. Her group forms part of Golden Dawn Watch and gave evidence at the trial and Vagger works at its downtown Athens office.
"It was 12.50pm and a man came to the front door of our building and rang the bell. I answered and said 'who is it?' and this man answered 'we are Crypteia and we came to sing the carols for you'," Vagger says.
"I was a little bit shocked and did not know what to say…then I said 'what do you want?' and he said, 'we want you to be careful because we will find you either here, or outside on the roads' – and that was it."
She had heard of Crypteia and says the group previously called her office to claim responsibility for a number of violent incidents including an arson attack on a community centre for Afghanis in Athens. The group could be linked to Golden Dawn, she says.
"They said 'Don't look around for other perpetrators. We take responsibility for most of the incidents.' At first they were quite polite, not very tough, but then they called the Greek Forum of Migrants – another group in our network – and threatened and they were less polite. They said 'we don't like the work you do with refugees and migrants. We don't attack Greeks but if we have to, we'll also go against Greeks," adds Vagger.
Anna Stamou was also threatened by Crypteia. "We are the group that kills, burns, hits and tortures immigrants, mainly Muslims," said a caller in 2017 who used a blocked number and identified himself as from Crypteia.
During the call he also boasted about an attack on an 11-year-old Afghan refugee when masked men targeted the boy's home – after he gained national attention for being prevented from carrying a Greek flag during a school parade. The mob threw beer bottles and stones at the home, shattering windows. They also left a note which read: "Go back to your village. Leave."
Stamou says the far right's modus operandi is to intimidate people and that the threat from Crypteia was not the first time the Muslim Association of Greece has been threatened by neo-Nazis.
She remains uncowed though. "In the beginning I was very afraid they would physically attack us, cowardly, in the house. But then I thought why should I be afraid and they aren't. This is their goal, to intimidate people," Stamou says.
She and the other anti-fascists we meet in Greece, all say they will continue the fight against fascism including Golden Dawn – no matter what the Court of Appeal eventually decides. But Stamou has faith in Greek justice. "It is a criminal organisation and the material court has – what has been presented so far – is more than enough to prove that," she says.
Featured photo thanks to Thanasis Kampagiannis.