"It's a very dark story," says forensic investigator, Stefanos Levidis.
He is standing in front of an imposing mural of Greek rapper Pavlos Fyssas, who was stabbed to death in 2013.
The artwork, a tribute painted on a wall at the National Technical University in Athens, depicts the musician holding a microphone, alongside the words "R.I.P Killah P", the 34-year-old's stage name. The mural also states the date that Fyssas was slain – 18 September 2013.
It was a killing that outraged most Greeks, igniting protests in Athens and other European cities including Barcelona, Paris, Amsterdam and London.
Today, Fyssas is revered as a martyr by anti-fascists in his homeland and across Europe. The initial story touted was that he was attacked randomly in a street after an argument over football.
But according to Levidis, who spent a year investigating the crime, this was a lie. Levidis says the murder was premeditated – and that police stood back and watched as a neo-Nazi killer plunged a knife into Fyssas three times.
He believes the attack followed the modus operandi of a neo-Nazi hit squad belonging to the far-right Greek political party, Golden Dawn.
On Wednesday in Athens, some seven years after Fyssas's murder, Greek's highest court will rule whether Levidis is right, the rapper's killing having been pivotal to a case viewed as the most important involving the far-right since the Nuremberg trials after WW2.
"This was not an altercation over football, like the media presented it the first night. It was not something that happened on the spot, where Pavlos was being aggressive and ended up being killed. No, it was a very well-orchestrated attack," Levidis says.
Golden Dawn's leaders were arrested on 28th September 2013, 11 days after the death of Fyssas, which sparked a major probe into the fascist party.
The trial started in April 2015, when 69 members of Golden Dawn — including its 18 elected MPs — went on trial accused of orchestrating murder, arson, assault and weapons possession.
Golden Dawn's leaders were charged under the so-called "mafia clause" of the Greek penal code, Article 187. The party is accused of being a criminal organisation. Those on trial include its leader, Nikos Michaloliakos, who wrote books praising Hitler.
The case is complex and centres on four charges. The first relates to a 2012 attack on Egyptian fishermen who were left with serious injuries. The second charge is an incident in 2013 when 20 trade unionists were assaulted.
The third is the murder of Fyssas, while the fourth is levelled against 20 people – including Golden Dawn's 18 former MPs. They are charged with membership and direction of a criminal organisation.
Golden Dawn has denied everything and dismissed the trial as political persecution.
Levidis disagrees. He is an investigator with a group called Forensic Architecture, based at Goldsmiths, University of London, which investigates human rights violations.
Nominated for the Turner Prize in 2018, Forensic Architecture is a team of investigators, coders, architects, lawyers, animators and filmmakers, who do spatial and media analysis of crime scenes to produce counter-forensic evidence.
The team has investigated war crimes in Gaza, the treatment of detainees in a Syrian prison, as well as a neo-Nazi murder in Germany linked to German intelligence.
"In a sense we act as pathologists for buildings, or for the urban environment," Levidis explains. "In most cases, we work in what we call a counter-forensic manner.
"If forensics is the art of police – where they seal off a crime scene and restrict access to the scene and to evidence – we try to kind go underneath the tape and challenge and test the truths of the official narrative. We try to work towards a civilian-led investigatory practice."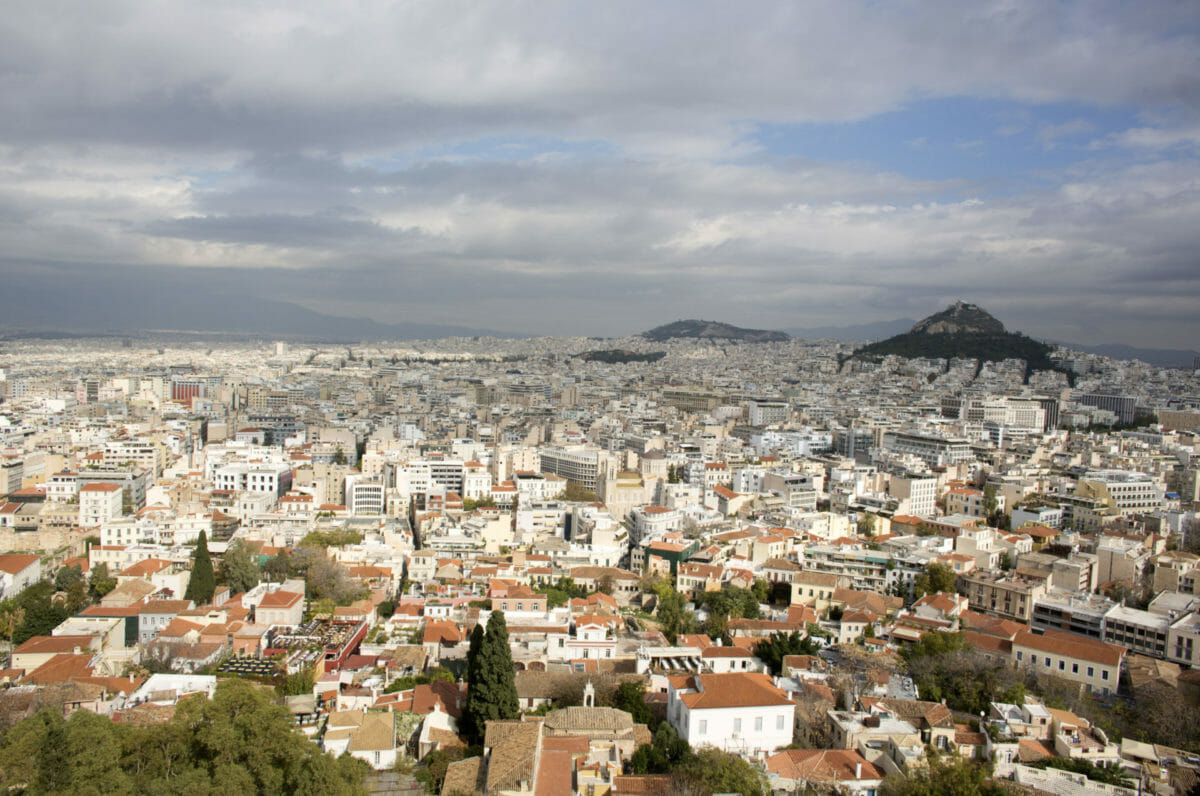 Forensic Architecture was asked to investigate the killing of Fyssas in 2017 after being contacted by lawyers working for the dead musician's family.
They said CCTV video captured the night Fyssas died contained significant evidence which had not been taken seriously by the court.
Forensic Architecture was asked to analyse CCTV and try to piece together a narrative of what really happened.
Most of the video analysis was conducted by Levidis, Simone Rowatt, and Christina Varvia.
Their investigation involved reconstructing events forensically from CCTV footage, witness testimony and recordings of communications between police and emergency services.
It took around 12 months to complete. In doing so, they established a precise timeline and reconstruction of events that led to the murder, challenging claims the killing was spontaneous and followed an argument.
The team had to synchronise a number of CCTV cameras together because each had a different time code.
"They were all wrong," Levidis says. "Some cameras said the year was 2011 instead of 2013, some were eight hours off, and some 50 seconds off."
They used visual clues to synchronise them, such as a pedestrian walking through cameras' points of vision. They calculated the distance, the average speed, and how long it would take a person to reach two different points of view.
The investigators then synchronised cameras to audio transmissions by the police whose version of events did not seem right, according to lawyers representing Fyssas.
They'd requested recordings of police communications on night if the killing, which Forensic Architecture was allowed to examine.
Levidis believes that Golden Dawn was tipped off that Fyssas was in a cafe with his girlfriend and some friends and that a convoy of party members, an alleged hit squad, set off from a local headquarters to track the rapper down, before killing him.
Forensic Architecture proved that the police's version of events was false.
As the late night incident unfolded, frantic calls had been made to police and although armed officers responded, they later claimed to have arrived too late to save Fyssas, who was found lying in a pool of blood in a street.
He had been stabbed twice in the heart and once in the thigh.
Forensic Architecture proved that police arrived earlier than they claimed and were there as the killing took place.
Its investigation found that an emergency call was received by police at 11.54 on 17 September instead of 11.59, as officers claimed.
This allowed police to falsely state they arrived too late when they were actually present, watching the murder alongside a group of up to 40 supporters of Golden Dawn.
"The main convoy (Golden Dawn) arrived shortly after the police came. The police presumably talked to the group, but we can't know that. Perhaps most chilling is the fact that police were there, five minutes before the murder, and lied about it in an organised manner again," Levidis says.
The video, a startling watch, was shown to the court in 2018, although no-one from Forensic Architecture appeared in court as an expert witness, as the window for submitting the list of witnesses had already closed.
Instead, the full video was screened and a judge read out the report in court on 10 and 11 September 2018.
Golden Dawn's lawyers objected to Forensic Architecture's video being used as evidence but judges ruled against them.
The party initially denied any direct connection with the incident, although party leader Michaloliakos said later it accepted political responsibility for the murder.
A man called Giorgos Roupakias confessed to stabbing Fyssas but he was released from detention in 2016 and placed under house arrest.
Roupakias was allegedly a member of Golden Dawn's Nikaia battalion – a violent hit squad which attacked opponents.
Golden Dawn was officially founded in 1980. The party was initially a fringe group of ultra-nationalists but after the Greek economy crashed in the noughties it exploited people's concerns over Islam and immigration.
In 2012, 18 Golden Dawn politicians were elected, despite racist rhetoric over many years.
At Greece's election last July, however, Golden Dawn failed to pass the three percent threshold it needed to stay in parliament.
It is now crumbling and this week – on 7 October 2020 – the party's day of reckoning may finally arrive.
It's been a long road for the many victims of Golden Dawn's violence including the family of Fyssas, who called for the conviction of the entire leadership of Golden Dawn, when the long-running trial finally concluded.
"The time for the ruling has come. October 7, 2020 at 11 am. Seven torturous years since the murder of Pavlos, for us there is no other option than the conviction of the entire leadership of Golden Dawn's criminal organization," the family said in a statement.
Magda, Fyssas's mother, had collapsed at the trial in June last year when Roupakias was brought into court to sit in the dock.
Her family has called for supporters to gather outside the courthouse, when the judges will deliver their verdict on Wednesday.
As for Levidis, he'll be in court too.
"The verdict will be announced on October the 7th, 10:00 in the morning. We will absolutely be there," Levidis told The Ferret.
Photography by Angela Catlin.