With its pristine beaches and close-knit community, the small Hebridean island of Barra is often held up as the archetypal rural idyll.
But in recent weeks the 1200-strong community has found itself at the heart of a serious Covid-19 outbreak. Three cases were reported on 13 January and by last Wednesday that number had risen to 50.
On Friday, with the hospital on Lewis reaching capacity, Health Secretary Jeanne Freeman announced that the whole of the Western Isles would move into level four lockdown conditions with immediate effect.
So on Barra there have been no children playing on football fields in recent weeks and only the odd walker can be seen on beaches or in the hills, says local resident Jessie MacNeil.
But the whole island turns to watch as the coastguard helicopter whirrs in to land before whisking those who are unwell off the island to Covid-19 wards in Stornoway, Glasgow or Inverness. By Friday it had made eight trips.
Yet, says MacNeil, this high profile health crisis is not the only one on this small island. She, along with a growing number of concerned community leaders, claims that Covid-19 has laid bare the increasingly chronic erosion of local health and social services.
Gaps in service
This month's outbreak means NHS workers will only travel to Barra to provide essential services. A spokesperson for NHS Western Isles says while virtual appointments were being held wherever possible, "essential" visiting services to Barra had been continuing until this month.
"However, for reasons of safety during the current outbreak on Barra, visiting services have been temporarily suspended," they added.
This only highlights the gaps in support on the island, says McNeil, taking shortages closer to breaking point.
She says the nearest social worker lives on Benbecula (about 50miles away), the health visitor from North Uist is based in Barra just two-three days per week, and there has been no Community Psychiatric Nurse (CPN) on the island for three years. She claims nursing and midwifery cover is limited.
In response the health board claims the island is actually well served with a health weight practitioner, a mental health support worker, and an alcohol and drug partnership worker, with no freezing of nursing posts. Comhairle nan Eilean Siar (Western Isles Council) says a social care assessor post means there is no unmet social work need.
McNeil, though, insists these worker posts are not the same as the professional ones that have not been reinstated in recent years, and says the need is there.
What's more, in just two months, one of two current GPs will retire – at which point the medical practice contract to provide an out-of-hours service and cover at the five-bed community hospital, St Brendan's, will end. No-one yet knows what will replace it.
MacNeil, who is chairperson of the Barra Locality Planning Group (which looks at how local services are provided) now thinks enough is enough. "I believe there should be a major investigation as to why the erosion of the professional services in Barra in health and social care has left us so vulnerable at this time," she told The Ferret.
"There needs to be an official review – we need someone to look at Barra and what has happened to our services.
"There are services that professionals should be providing in our community – this is not just an issue in times of emergency."
MacNeil, like other community leaders here, does not believe she is being unrealistic – she knows that not every service can be provided. But she and others believe it's time to stop the centralisation of services and restore the roles of local key professionals who were once considered essential. "I think they've seen Barra as a target when cuts need to be made," she says.
It's harder in the winter, when bad weather means ferries can be cancelled. Then visiting health and social care workers don't come so appointments must be rearranged. "They are dependent on the ferry, not just to get here but to get back again," says McNeil.
While that's bad enough at the best of times, the impact of Covid-19 makes it all the starker. For a start there's more likelihood of ferry cancellations. Just last week the entire crew of the Eriskay ferry that connects Barra to the other islands had to go into isolation.
And then there's the increased need for support created by the pandemic, with many families in this fishing community – where living costs are high – likely to be struggling due to the "double whammy" of Brexit and Covid-19.
Margaret Anne Beggs, care services manager for day care charity Cobhair Bharraigh (Barra Cares), agrees. She says that as services have been eroded it's got harder for her organisation to access help with everything from mental health crisis to Alzheimer's and physiotherapy.
"There's a mental health support worker here but she can't make any decisions without the approval of the CPN and they live on another island," she explains. "I spent three years trying to get someone help and my experience was that I wasn't listened to.
"Islanders here are reserved – if they ask for people then you know it's because they really need it. It's hard when you then can't get them that help."
She worries too about the growing levels of anxiety in children, struggling to make sense of the pandemic, and wonders how they will be able to access support if they need it.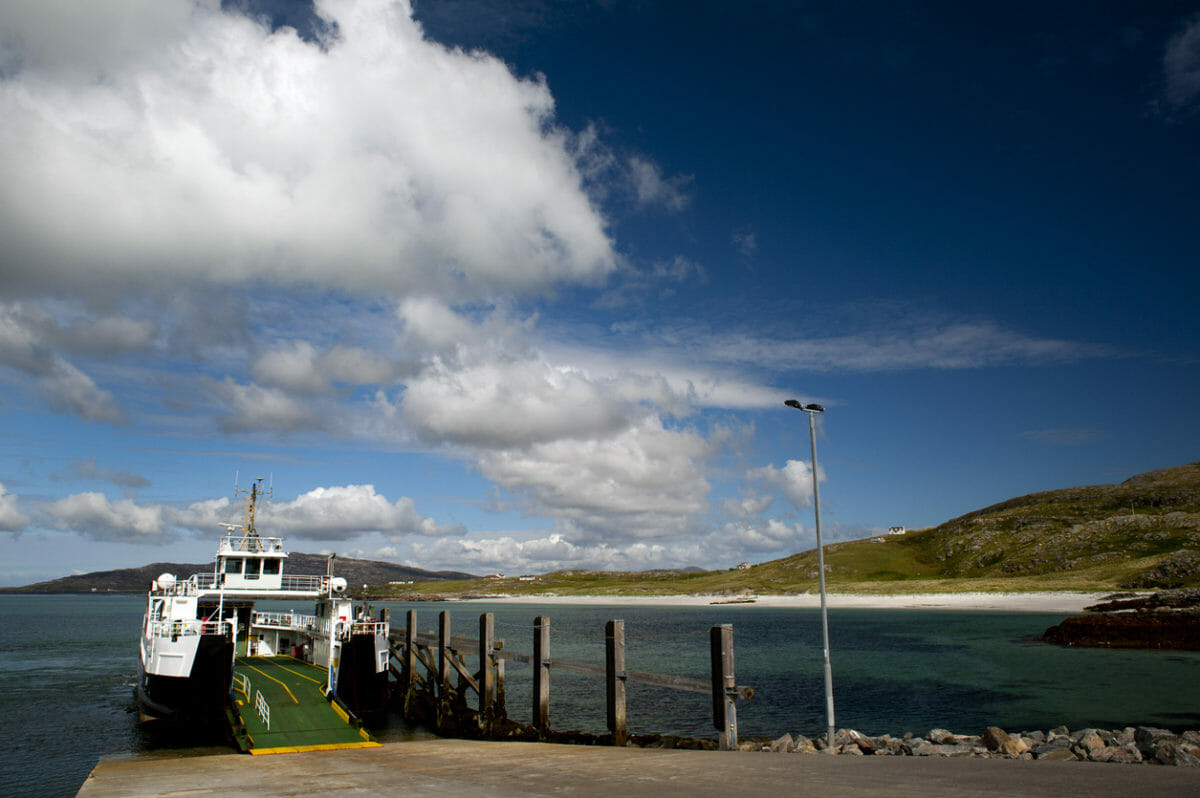 At Barra Medical Practice in the main village of Castlebay, Dr Mark Willcox is right at the epicentre of that pandemic, seeing all the island's Covid-19 patients while his fellow practice doctor sees the non-Covid ones.
And it's a worrying time. Barra is, he says, one of the most cut off communities in the UK in terms of mainstream health services. "We are 146 road miles from Stornoway," he says. "But it feels like another universe, really."
He feels the island is low on the health board's priorities with health and social care services eroding on the island over the past five years.
"The fall-out is the pressure on the GP increases," he says. "If you can't see the midwife or your CPN or your social worker, you see your GP. If someone has nowhere else to go, we have to be there."
He claims mental health is as much of an issue in Barra as it is everywhere else, and has examples of when a lack of social work services was problematic. "I think there are a lot of hidden mental health issues," he says. "A lot of that is underground."
And of course the pandemic brought the GP practice new problems.
During the first wave a field hospital was set up, to ensure that the five-bed community hospital was kept Covid-free. But it was dismantled in the summer and has not been replaced.
"We had a very good respiratory assessment centre and robust plan in the first wave, says Willcox, who has trained in Ebola and has a degree in infectious diseases.
"But now we have to look after people in their homes until they can get off-island.
"The emergency retrieval service in Glasgow has been phenomenal and the two consultants who run the Covid-19 ward in Inverness have been brilliant at saying, "we'll accept any patients from you"."
But the worry about what happens if he needs to get two people off the island at once gives him sleepless nights.
The fraught communication with the health board is not just over the current pandemic.
When Willcox's colleague retires in April, he's decided that he can no longer deliver a 24/7 cover service safely.
The practice gave notice on the out-of-hours contract with the health board last July, a decision the health board announced via Facebook without warning one Friday in November, causing alarm in the community.
But with Willcox still struggling to recruit a second GP, a solution still seems no closer. He says: "We just don't know what's going to happen and the health board is not talking to us at all. We've written three times."
In response, a spokesperson from NHS Western Isles said it is now considering its options, adding: "We can confirm that short term arrangements are agreed to ensure the continuity of services from 1 April with no changes in services for patients." Longer terms options are being developed, they added, and the community will be kept informed.
Donald Manford, an SNP councillor whose constituency takes in Barra, tries to take an even hand. "It's important to remember that the health authority is under enormous pressure just now," he says.
The erosion, in his view, is linked to the UK policies of austerity. But he is also clear that the multi-million pound investment in a new community hub, which the health board says is "the most significant project in terms of investment the Western Isles has seen", must not lead authorities to lose sight of the need for professional services being delivered from it.
In response a health board spokesperson said plans for the hub "demonstrates the ongoing and long-term commitment to delivering first class and state of the art health and social care services on Barra".
Manford also believes that the community must now have the information it so badly needs about the future of its health and social care services.
"The health board, and the council, need to give us clarity on the questions to which we are seeking answers," he says. "What is going to happen to the medical practice contracts, mental health services and so on? Time is passing and we need to know."
Finding solutions
Meanwhile the search for solutions continues. Eoin MacNeil, a member of Castlebay and Vatersay Community Council, who also works in the voluntary sector, has seen the crippling challenges the pandemic has posed. Even something as simple as a failure to renew a local bus contract in the midst of Covid-19 has had devastating consequences, he says.
"It means even a person on a small budget has to pay £20 for a taxi if they need to get to the shop at the other side of the island. If you've only got £30-40 for the shopping that's significant," he adds.
But it's also helped the community find new ways of doing things. "Since the Covid-19 pandemic we've been coordinating services like transport, delivery of medicines and food," he says. "We've pulled together really well.
"I'd like to think we can use that momentum to come together around this, to highlight the need to access a wider range of services."
The pandemic, he argues has focussed local minds on the severity of the problem. Now the challenge is to convince the authorities to see the need for change too.
This story was published in tandem with the Sunday National.
Cover image thanks to iStock/Richard Heath