He's a central part of Christmas alongside presents, gluttony and familial tension, but one controversial rumour about Santa Claus is repeated every year.
It is claimed that jolly old Saint Nick's red suit was in fact a creation of global soft drinks purveyor Coca-Cola.

The internet and social media has stoked the rumour, which suggests that the red suit was the product of Coca-Cola marketing campaign.
https://twitter.com/CSIROnews/status/941895665311014912
Ferret Fact Service took a look at this festive claim and found it to be False.
Evidence
The story of Santa Claus goes back to a monk named St Nicholas, who is believed to have been born around 280AD in what is now modern-day Turkey.
St Nicholas was known both for his religious devotion and generosity, and many stories exist of his alleged charitable acts and gift-giving.
Whether or not St Nicholas was in fact a real figure is a matter of some debate, as he does not exist in historical documentation. He appears in diary entries and writings showing that people did believe in him.
In the UK, this personification combined with folklore around Father Christmas, who was associated with festive merriment.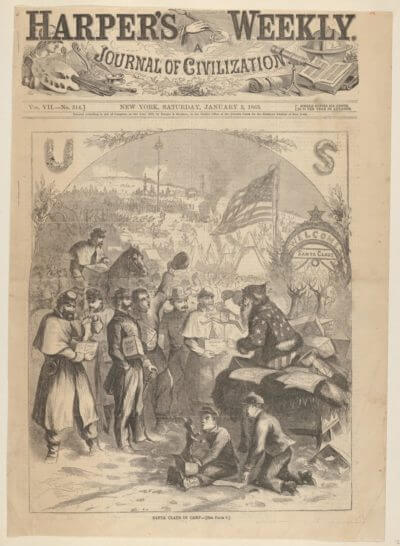 The modern image of Father Christmas, which became broadly interchangeable with the American Santa Claus, was popularised in Victorian times by poems and short stories.
The cartoonist Thomas Nast did much to spread the modern characteristics of Santa Claus in a 1863 issue of Harper's Weekly, as part of a large illustration titled, A Christmas Furlough.
But when did Santa become red? There are a number of popular depictions of Santa wearing red in the 19th century. The image of a white-bearded, red suited man was used in advertising campaigns including for the US Confection Company's Sugar Plums and on the cover of humour magazine Puck.
An 1881 illustration by Thomas Nast, Merry Old Santa, featured a plump man in a red-suit, with a pipe and a rosy complexion.
Coca-Cola began to use the red image of Santa on advertising in the 1930s, when the company hired artist Haddon Sunbloom to create a character of Santa Claus for use in festive campaigns. The idea was to ensure people continued to drink Coke during the winter months, as the drink was associated with warm, summer days.
The red suit was a convenient feature of the character as it matched the advertising colours of the company.
He was inspired by the classic 1822 poem, A Visit from St Nicholas, which features the line: "Twas the night before Christmas, when all through the house; not a creature was stirring, not even a mouse".
It featured a description of Santa Claus's clothing and personality which came to define the modern figure.
This red-suited, rosy-cheeked Santa was used in numerous Coca-Cola adverts, and probably helped to cement the modern image in the minds of Americans and the ubiquity of the drink around the world meant it became one of the most widely-seen depictions of Santa Claus.
However, the version of Santa Claus created by Sunbloom was based on an already standard depiction.
Ferret Fact Service verdict: False
The depiction of Santa Claus as a red-suited old man has been in existence since at least the 19th century. Cartoonists and writers gave Santa many of the features we now associate with him in the UK and US. Coca-Cola's cartoons in the 1930s may have helped to popularise this version of Santa Claus, but they did not invent the red suit as a marketing ploy.
Ferret Fact Service (FFS) is a non-partisan fact checker, working to the International Fact-Checking Network fact-checkers' code of principles. All the sources used in our checks are publicly available and the FFS fact-checking methodology can be viewed here. Want to suggest a fact check? Email us at factcheck@theferret.scot or join our community forum.
Photo thanks to Mike Mozart, CC BY-SA 2.0