The number of childminders practising across Scotland has fallen by over a third, leaving thousands of families struggling to find flexible childcare.
Exclusive analysis of Care Inspectorate open data by The Ferret found the total number of childminders in Scotland had fallen from 6752 in 2012 to just 4829 in 2021.
The number of Scotland-wide registrations last year was just 147, compared with 710 in 2012. The figure has been declining year-on-year.
The decline is particularly stark in rural areas with the number of childminders falling by almost half in Angus and Clackmannanshire.
But even in Scotland's largest cities the number is decreasing, according to the new data, which shows that the number has fallen by almost a quarter in Edinburgh and Glasgow.
The Scottish Childminding Association said the figures were "extraordinary" and "worrying" and called for more support for the profession.
Childminders in decline
Professional childminders care for children from birth to 12 in their own homes. They are registered by the Care Inspectorate, a process which takes three to six months and includes training.
Advocates of childminding claim it provides a home-from-home experience where children can learn and play in mixed age groups. They say it allows families greater flexibility in terms of start and pick-up times. Many childminders continued to operate throughout the pandemic.
However despite many childminders reporting a strong demand for their services, fewer and fewer are signing up and more are leaving the profession – put off, it is claimed, by the worsening insecurity, low pay and excessive, unpaid paperwork.
Shortages in some areas are so severe the Scottish Childminding Association has launched a pilot project in ten rural areas, hoping to attract people to the profession.
The professional body claimed that many childminders had been forced out because of the way local authorities prioritised their own nurseries, offering free places to those rather than offering parents choice about where to use their allocated 1,140 hours of annual paid for childcare.
The Scottish Government commitment to early learning and childcare (ELC) expansion introduced in August 2021, equates to 30 hours per week during term-time. The statutory change saw hours increase from a guaranteed 600 annually.
But according to childminders many parents are not being offered hours with a childminder, though the policy should allow for this, but instead told they can use the free hours at a local authority nursery.
The recruitment drive needed to up the staffing of council nurseries has also attracted childminders, as well as staff from private nurseries and even social care, it has been claimed.
Others are leaving because they can no longer afford to do the "mop up" by relying on childcare hours after nursery.
However Convention of Scottish Local Authorities (COSLA) said families were able to access a funded place at any childcare provider who meet the requried standards and was "willing to enter into a contract" with the council.
Scottish Childminding Association chief executive, Graeme McAlister, said: "Since 2014 we've seen an extraordinary and worrying decline in our workforce.
"It was a momentous achievement to realise 1,140 [hours of free childcare] but in order to achieve that it required a national recruitment drive for nurseries. It accidentally had a destabilising effect.
"While some local authorities have been supportive of childminders, others are approaching this policy with a provider mentality. We know that in some areas parents are not being offered childminding as part of their ELC hours with local authorities pointing to their own provision instead.
"It means childminders are often not getting enough hours to make for sustainable businesses."
He claimed an increasing amount of paperwork – which took some childminders an additional unpaid day a week – was also making business less and less sustainable.
Local authorities must value them as part of ECL provision and cater for that demand, driven in part by families who relied on their services during Covid.
"It's a distinct form of childcare with very low child to adult ratios. Uniquely you can have children from birth to 12 who are playing and learning together," he added. "Parents who use childminders also view them as a form of non-judgemental support for the whole family."
The Ferret's analysis found that rural areas tended to have higher childminder rates (calculated as the number of childminders per 1,000 people), suggesting they were more reliant on their services.
Glasgow had the lowest rate per head, with just 0.3 childminders per 1000 people in 2021 while Orkney had the highest with 1.5 per 1000.
Susan Mooney, who has been childminding on the Orkney Islands for 30 years, has seen a decline first-hand. Ten years ago there were more than two childminders per 1,000 people here.
Now the number of childminders has fallen by 40 percent with an increasing number of children going to large local authority nurseries.
Mooney loves the "freedom" childminding brings, allowing her to take children to the beach and the park, or to grow fruit and vegetables in the polytunnels she shares with another childminder.
"But we're very much at the bottom of the heap," she added. "During the pandemic nurseries could get funding to enhance their outdoor play and keep everyone outside most of the time, but there was no funding we could apply for. We had to meet that cost ourselves.
"When I had to keep my doors and windows open during the pandemic there was no help there for me to meet my increased energy bills. If you work in a nursery, those things aren't coming out of your own pocket."
She claims the lion's share of hours go to the nurseries with childminders expected to pick-up what's left and still find a way to survive.
"The reality is the workforce here would grind to a halt if it wasn't for childminders," she claims, due to restricted hours. She has had children arrive at 6.15am, due to parents' early shifts and can arrange far later pick-up times than nurseries.
She also claims large nurseries, where up to 90 children attend in open plan rooms, do not suit every child. "I'm not down crying [criticising] our nurseries but it's very hard for children to get downtime," she added. "Some children just want to read a book while sitting in my lap… I don't know how that is possible in these nurseries, even though they have good staff ratios."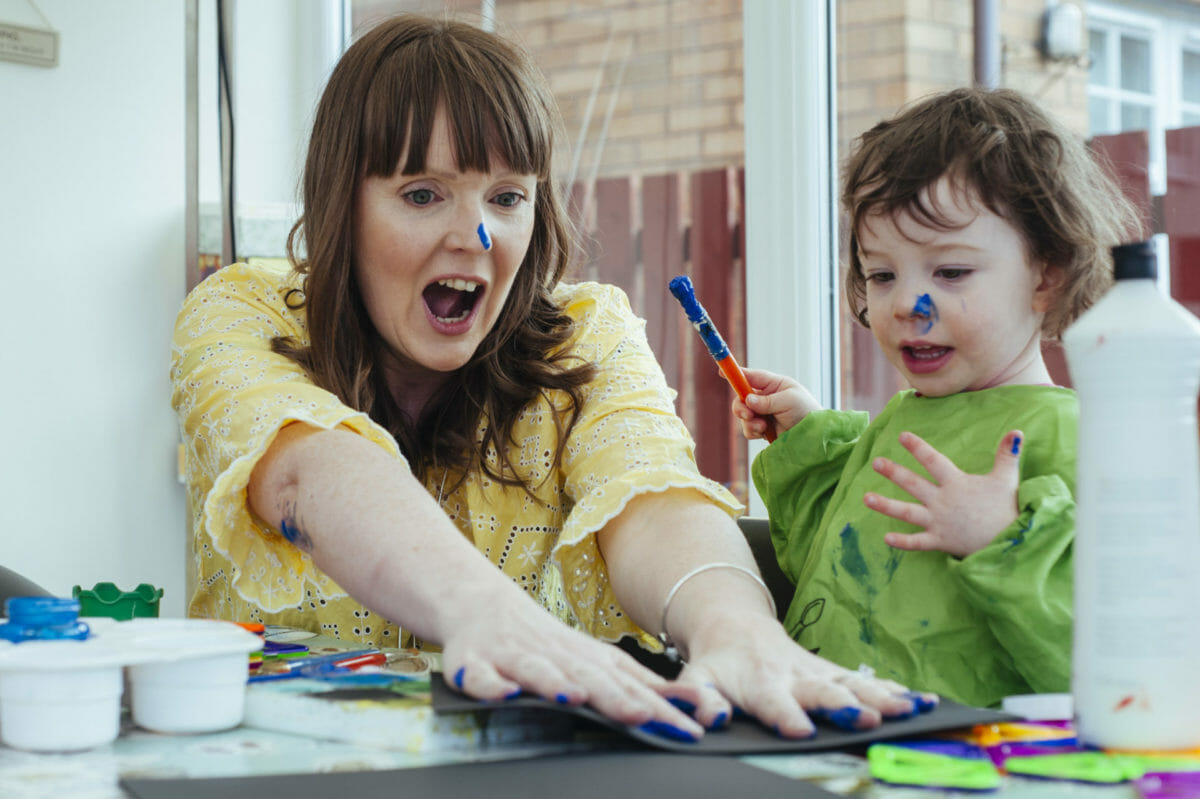 Barbara Dennistoun, from South Lanarkshire, agreed that the benefits of childminders were often overlooked, leading to less support for the profession.
She worked full-time when her children were young but after missing her son's first birthday and struggling to find after school care for her primary one daughter, she became a childminder, looking after them and others.
Now her children are in their twenties and she still loves her job where she can see the world "through the eyes and of child" and enjoy the "joy of jumping in puddles" with children of mixed ages. But there are also increasing challenges which she blames for the declining numbers.
"There is real instability," she said. "And you are a sole worker which means doing all your own paperwork, enhanced records and so on, and that is unpaid in the evenings or weekends.
"The sustainable unit price per child [set by the local authority] should be different for childminders, who have about three children, than at a nursery where there are many more children at a time."
Stacey Simpson's son Cody, 4, has been cared for by Dennistoun for several years. His sister, Sophie, 11, also attended her service during lockdown because Simpson, a single mother, was working.
Simpson claimed it was important to take the decline in childminders seriously, in order to give families and children choice.
She said: "When Sophie was little she was in a partnership nursery [private nursery but funded by the council]. I always found the experience quite impersonal so I wanted Cody to have more of a home-from-home environment.
"We're in the process of having Cody assessed for autism and having that more one-to-one care suits him. He knows what is going to happen day-to-day. And I know he's learning just as much here as Barbara follows the curriculum.
"I think local authorities need to understand how well it works for children and support them so that other families can benefit. I've done both and I can hand on heart say I've found a childminder more beneficial."
A spokesman for the Convention of Scottish Local Authorities (COSLA) said it was proud that over 121,000 children accessed funded ELC in April 2022. They claimed 31 per cent of funded placements were offered outwith local authority nurseries.
"The Funding follows the child approach, agreed by the Scottish Government and COSLA, is provider neutral and families are able to access a funded place at any childcare provider who meet the National Standard, has a place available and is willing to enter into a contract with the local authority," they added.
"Local authorities set rates for funded ELC provision in line with guidance agreed by the Scottish Government and COSLA. A core aspect of this guidance is ensuring that rates are evidence-based, and to support this national research was commission on behalf of councils to inform their ongoing process of setting rates.
"Importantly, sustainable rates for ELC provision have to be met from the funding envelope available to local authorities from the Scottish Government."
COSLA was working with partners "to consider a wide range of issues to provide support for childminders, including quality improvement processes and how best practice on minimising bureaucracy can be shared across all local authorities", they added.
Cover image thanks to Maverick Photo Agency for the Scottish Childminding Association.