Ali, a 27-year-old asylum seeker from Iran, was finally in a boat that worked. At 4am, along with around 15 other men, women and children, after one false start, he'd set off in the crammed rubber dinghy from the coast near Calais.
Now, three hours later, the passengers were trying to steer themselves across the English Channel.
And then the engine fuel ran out.
"All of us were weeping," says Ali. The Ferret knows his full name but is using a nickname.
"We didn't have anything in our bellies but we just wanted to vomit."
There was hardly space in the boat to move. "You can't move your legs, you can't sleep, you can't do anything. You are scared that if you move too much maybe you will fall in the sea."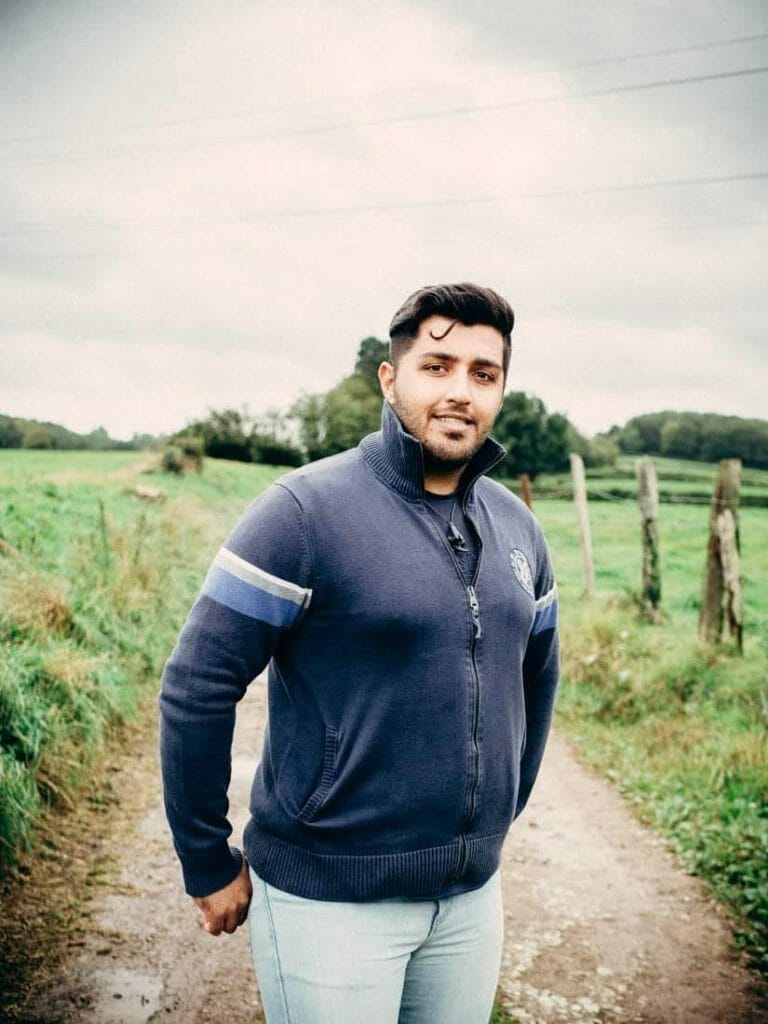 On 27 October, it emerged that four people, including two children – reportedly aged six and nine – had drowned while attempting to reach the UK by boat. Iranians Rasul Iran Nezhad and Shiva Mohammad Panahi drowned along with their children Anita and Armin.
The family's 15-month-old baby, Artin is still missing, after the boat which they were on capsized and sank.
They were just some of the uncounted thousands attempting to cross the English Channel this year. By August this year, the passengers of roughly 4,000 boats had successfully made it, according to analysis by PA Media – enough to raise the ire of Home Secretary Priti Patel, who has grabbed headlines by threatening to fly the new arrivals back to France.
There are others who have not made it, like Abdulfata Hamdallah, a 28-year-old Sudanese man whose body was found on a French beach in August.
In May a body was found floating in the Calais harbour, in too poor a condition to be identified. Another swimmer, spotted with a makeshift plastic bottle life jacket, is believed to have washed up at an offshore windfarm near Zebrugge over a week later.
Ali could swim, but he was used to swimming pools not the sea. The passengers tried to call the coastguard for help, but they didn't have signal. They shouted and screamed, and yet hours went by without seeing a single boat.
Ali contemplated death. "All I could see around me was water," he says. "I was thinking about my mother, how my mother would face this news about me."
For many, Calais is a last resort. The vast majority of people seeking to cross the border are from countries known for political oppression and war, such as Sudan, Afghanistan, Iraq, Iran and Syria, according to a Médecins Sans Frontières survey conducted in 2015.
Around two-thirds had experienced violence on their journey, usually in Libya or Calais. Roughly half had a family member in the UK.
For smugglers, though, it is a business opportunity. Ali fled Iran due to political troubles. He ended up in Greece, but fled again after a group of thugs injured him in what he believes was a racist attack.
He made it to Germany, but his asylum claim was rejected (just 25 per cent of Iranian asylum seekers were successful in Germany in 2019, compared to 63 per cent in the UK). It was then that he was told of a smuggler who would charge €2,000 (£1,819) to take him to the UK by boat.
"I gave him this money," Ali says. "He told me: "OK I'll come and pick you up and take you to Calais"." But when they reached the port, the smuggler told him to "go to the jungle", as the informal encampments around the edges of the French town are still known.
"I told him: "I don't have anything. The weather's cold, I don't have a tent, I don't have blankets. We didn't talk about this,'" Ali recalls. "He said: 'That's not my problem.'"
At the height of the refugee crisis in 2015, the Calais "Jungle" was a town of tents, with its own restaurants, barbers and even a makeshift mosque and church. Many of the 6,000 or so residents tried to cross the border by hiding in lorries.
By 2020, things had changed. The Jungle was razed to the ground in 2016, but around 1,500 people still live in informal settlements in northern France, according to Refugee Rights Europe. Police perform evictions with relentless regularity.
The mode of crossing, too, has changed. Between 2016 and 2018, the UK government ploughed more than £150m into Channel port border controls, meaning it is harder to pass undetected through the Channel Tunnel.
"People who were crossing by lorry are now crossing by boats, which is by nature more visible," says Refugee Rights Europe's UK advocacy officer Frances Timberlake.
Even though fewer people are trying to cross than they were in 2015, they are more likely to make headlines. "They are intercepted by the border force and counted, whereas people who arrive by lorry were never counted."
Meanwhile, one safe and legal route to crossing – family reunion under the EU Dublin Regulation – hangs in the balance, as the UK government currently has no plans to incorporate the law under Brexit.
"It is frightening that people are forced into more dangerous crossing routes or more lethal routes because the previous crossing routes open to them have been shut down," Timberlake says.
He believes some of these are even more perilous than trusting smugglers.
"There are so many people who are also desperate to rejoin friends and family in the UK who don't use smugglers and are doing particularly dangerous things like [using] makeshift dinghies held up by water bottles."
Meanwhile Ali waited in the "jungle" for more than three months, its location constantly shifting. At first he lived beside an old petrol station, but after a few weeks police evicted the squatters and they moved to a new location. Then, this too was evicted. All the time, he kept his hopes pinned on the crossing – "the game", as it is known in Calais slang.
There are restrictions on buying equipment in bulk in the region, so, according to Ali, the smugglers buy boats in neighbouring countries and then drive them to a hiding place.
Each smuggler also has their own checkpoint where they launch the boats. "Many of them know about each other's checkpoints," Ali says. "And they don't go there." The checkpoints are often as far as 15km from the informal camps, but passengers are expected to make their way there in the middle of the night, and then help inflate and carry the boat down to the shore.
Most of all, though, the "game" requires a lot of waiting. Waiting for the right weather. Waiting for the smuggler to find the right number of people. Waiting so long that some give up.
Another Iranian, 42-year-old Alex Kani, hoped to claim asylum in the UK (as a Christian convert, he is considered a criminal under Iranian law). "I tried six or seven times and it didn't work," he says. "I lost nearly €9,000 (£8,168) as well, to two different smugglers. They disappeared."
On several occasions, Alex, a non-swimmer with a phobia of water, refused to go in the boat because it was unclearly unsafe.
Other times, he got in. "The frightening time was the one before the last time," he says. "There were maybe 50-60 people in a boat which had a maximum [limit] of 25-30 people." Despite being almost double its legal capacity, the boat set off.
"Suddenly the water came inside the boat. People fell in the water, people were shouting, screaming. Most people didn't have life jackets." Thankfully, they were still close to shore. After one more failed attempt, Alex is now applying for asylum in France.
Ali also waited. He checked the weather constantly to see how high the waves were going to be. When it looked good, he called the smuggler. "He said: "I have a big boat and so I need more passengers to make it full"."
More weeks went by. After a month he called to say the game was on.
The smuggler told Ali to be ready at 2pm. He waited all night. "Finally, at 6am the next day, he came to us and told us "let's go, let's go, let's go"."
At the checkpoint, Ali saw the boat for the first time. An engineer by training, he realised that although it was around 10-12 metres, it relied on a single small engine. When he protested, he says the smuggler dismissed him, replying: "You think you're smarter than the German guy who sold this boat to me?"
The passengers piled in. "The boat was full of people, you couldn't move any further than 1cm." Children separated from their parents began to cry. As Ali had predicted, the motor broke.
"And when we wanted to find the smuggler to bring us back to Calais, because we were 15km away, we didn't see him," he says. "He'd run away." He had to walk back.
It was on the next attempt that the petrol ran out, and Ali found himself stranded in the middle of the Channel. "All of us, we were thinking about death," he says. "There weren't any ships around us to ask them 'please help'. [We were] shouting, screaming – nothing."
Finally, after seven hours on the open sea, a Dutch ship spotted them and alerted the French coastguard, which took them back to shore.
The UK and French governments have been quick to declare the drownings this week a tragedy. Home Secretary Patel issued a statement saying she was "truly saddened to learn of the tragic loss of life in French waters", adding that the news "highlights the dangers that come with crossing the Channel".
The UK government has been focused on stopping the boats. It has trialled a blockade tactic similar to those used in Australia, where boats would be turned back before they could enter British waters, the Guardian reported in early October.
Groups such as Refugee Rights fear that the deployment of such tactics could make asylum seekers less likely to call for help – as well as bringing the UK into conflict with international law.
And while Patel has claimed that those who try to cross the Channel are simply "shopping around for where they claim asylum", interviews with asylum seekers themselves paint a more complex picture.
They talk about family ties and distrust of the French authorities, as well as the appeal of an English speaking country.
But the squalor of Calais encampments aside, there are also practical reasons. "There is not even a place in Calais where you can make an asylum claim," says Ellen Ackroyd, a Calais field manager with Help Refugees, who says it costs at least €25 (£23) to catch a train to the nearest centre.
Campaigners are calling for the UK to allow asylum applications from Calais, in tandem with its investments in policing the border.
Back on land in Calais, Ali thought over the failed crossings: "If he gave us more petrol and took fewer passengers on the boat, for sure we would have got to Dover," he thought.
He made yet one more attempt. This time the smuggler promised to only bring 30 people – "a VIP boat", Ali jokes. But when he turned up at the checkpoint, he saw nearly 80 others there, including families.
"We were too many people," he says. "All the water came into our boat." The passengers tried to drain the water, but the families panicked and two children fell overboard. Thankfully, in this case, they were rescued.
And so for Ali, this attempt was his last. He says: "I want to live in England. I don't want to have a grave in England." Despite his hardship in Calais, he met aid workers who supported him and he began to imagine a future in France. He has now applied for asylum there.
He also tried to warn others of the dangers at sea. "I asked each family with children I met in Calais: "Please don't go to England. The boat is too dangerous," he says. "Maybe if I fell in the sea I could do something, I can swim. But what can a child do?"
One time he met a little boy. They played together, took pictures on Ali's phone. He believes this boy is among those lost in the most recent tragedy.
"I knew this family before in Calais," he says after news of the deaths breaks. "They didn't have enough money to go to the UK and they asked their families, their friends to prepare money for the f***ing smugglers. And that's the result."
Cover image thanks to iStock/Mortortion