Pictures by Angela Catlin.
Anthony is jumping from one excited four-year-old foot to the other, as if to keep his balance he must keep moving.
Amongst the bikes being unloaded from the van, is a tiny black one with a bright green saddle and matching handlebars. The Bikes for Refugees donation is probably just his size, if only he could keep still long enough to try it out.
In February Anthony and his parents – Gloria and Hever – joined a growing number of families fleeing gang violence in El Salvador. In 2016 the number of murders made it one of the most dangerous countries in the world. We're using just the first names of this family and other asylum seekers interviewed to protect them.
At home, Gloria worked as a doctor, Hever drove a bus and Anthony was surrounded by friends, family and cousins. That was before life skittered out of their control, forcing them to flee.
They took a plane to London and claimed asylum on arrival, entering into a system that in recent months been blamed for unimaginable tragedy.
We meet on a blustery July morning, almost four months since Scotland locked down to prevent the spread of coronavirus.
Today a charity is delivering bikes. But back in March it was bringing food so they didn't starve.
The arrival of Covid-19 has exposed all sorts of fault lines in society. But for people claiming asylum in the UK it has shown that this is a system where there is often no state safety net.
Sometimes the consequences of that have been unthinkable. This meeting in Cardonald falls just 19 days after Badreddin Abadlla Adam from Sudan, stabbed six people at the Park Inn hotel, Glasgow, where he was being housed by private company Mears – which has a contract worth in excess of £1bn with Home Office to provide asylum accommodation – as part of its Covid-19 response.
That followed the death of 30-year-old Syrian Adnan Olbeh in May at McLay's Guest House, which was also being used as asylum accommodation by Mears. And in late August, Ugandan asylum seeker Mercy Baguma will be found dead beside her crying toddler.
But throughout there has been a network of grassroots organisations, desperately trying to plug the gaps.
For the last six months The Ferret has been following the stories of ordinary people seeking asylum in extraordinary circumstances, as well as those of the people who've refused to look the other way.
The asylum system has loomed unexpectedly large in the political landscape of 2020. The UK Government now says the system is broken and has committed to "firm and fair" reform.
But there is no discussion of addressing the gaps people are tumbling through. The only nets mentioned aim to hold back asylum seekers crossing the Channel in flimsy boats.
Meanwhile it is into this broken system that Gloria, Hever and Antony must put their trust.
"We had to leave," Hever explains in Spanish through a translator. "We were afraid something would happen to us." They had the money and paperwork to leave on a plane and claimed asylum at the airport.
"But there are many others who don't even have the opportunity to leave," he says. "They may die because they don't have the money to get out."
After several days in London the family was sent to Glasgow by the Home Office and given a serviced apartment – an upmarket hotel-like flat used for tourists and business travellers – in the city centre. Just days later on 1 March, Scotland's first case of coronavirus was detected.
By then, a source told The Ferret, more than 300 people were housed in serviced flats by Mears Group, most usually costing well over £100 a night on the open market and booked through an agent.
On 17 March this small family from El Salvador were moved to a flat in southwest Glasgow where they were given an Aspen payment card, loaded with their asylum support worth £37.75 per person each week.
It was only when Gloria tried to use it they realised it didn't work. Migrant Help and the Home Office, who should have fixed the problem, told them to call Sodexo, which administers the cards. They say the helpline advisor could not provide help in Spanish and they spoke no English.
"I was very worried and afraid," remembers Gloria. At a time when most people were stockpiling pasta and toilet rolls, she was watching their tiny supply of food dwindle. They knew almost no-one, local projects and drop-ins were locking down. They felt very alone.
"We're used to staying with all our friends and family," says Gloria. "I wanted to go back. But you can't. You can't go back." Her husband hugs her as she cries.
It was only through a chance meeting with a translator working for their lawyer that Bikes for Refugees got a call. "Without that I don't know what would have happened," says Hever. It took three weeks for the card to be fixed. Mears says it was unaware that the family was struggling.
But according to Bikes for Refugees, their situation was just the tip of the iceberg. In the project workshop, manger Gabe Vest opens a sprawling spreadsheet, a combination of the charity's own referrals and those of Maslow's Community shop, a charity shop in Govan providing for refugees.
It runs to 300 names, details almost £20,000 spent on Asda vouchers alone, along with thousands of pounds worth of food, toiletries and second hand essentials.
Each note in the database could be the start of another story. "Pregnant – difficult to shop due to fatigue," says one. "Needs PJs and underwear for her disabled son," reads another.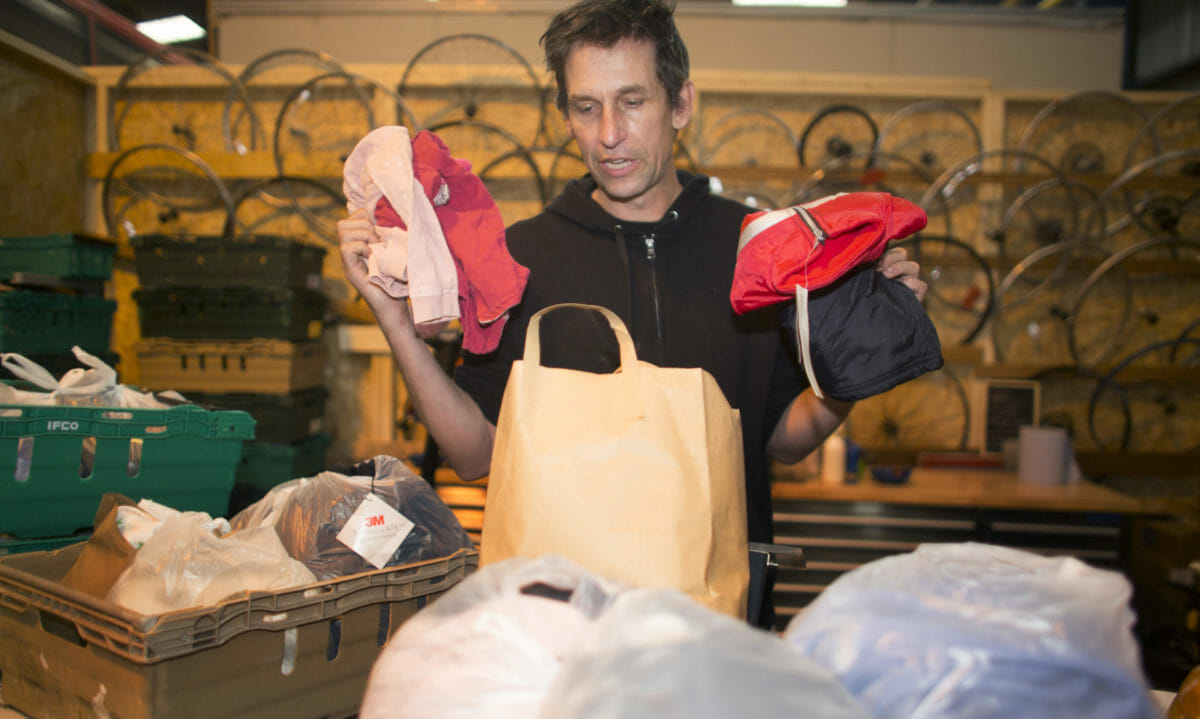 Gabe would rather focus on dolling out fixed-up bikes than essentials. But right now, both are needed.
Back in March, with bike projects on hold, he agreed for some of its funds to be diverted and started providing food for a small group of asylum seekers across the city. Four days after Gloria and Hever's money ran out, Gabe arrived with shopping and Asda vouchers.
"The support we got from Gabe was amazing," says Hever. First came food and vouchers. Next came an art pack for Anthony. "They sent me a video of him using it and I realised he had to use the box as a table," says Gabe, who is shocked by the lack of basics provided in asylum accommodation.
Working with Maslow's he's also delivered dishes for the kitchen, clothes, and now finally bikes, which he says also send a signal to refugees that "they are welcomed and wanted".
Now life is more stable for this family. They are grateful for the Home Office support they get. "To buy food is enough," says Hever.
But many people are still reliant on a network of grassroots charities and kind-hearted individuals for essentials. Projects and charities – from Postive Action in Housing to Refuweegee – are providing support on a daily basis that is not forthcoming from the state.
The  next person on Bikes for Refugees' delivery list is Venaruru, a single mother from Namibia, who needs clothes for her one-year-old, Kimberley.  Their flat has only a tiny kitchen, bathroom and one room to double as bedroom and living room. 
There's a bed on one side, which she says is broken, a mattress on the other. Kimberley's cot is piled up with pillows and blankets, to keep them out the way while she plays.
In the kitchen there is no room for a washing machine – even through lockdown she had to carry washing, along with her baby, downstairs to a shared laundry room.
Mears says the flat has been assessed as suitable and claims previous tenants had no problem using the shared laundry facilities. A spokesman insists there is no record that the bed was broken.
Venaruru has been living here for two years, waiting for the Home Office interview that is the only way her asylum claim will progress.
Her seven-year-old is still in Namibia, living with a friend. Venaruru went ahead, believing she could send for her daughter, but this can only happen when she gets refugee status.
She tries to video call several times a week, as long as she can afford the data. "She always asks me: "Mummy when are you coming back? She says: "I miss you." Her sadness when she says that swallows up the whole room.
Venaruru takes sleeping pills that allow her a few hours rest at night and she's seeing the specialist Anchor mental health service. She is on asylum support, but she claims it's not covering her costs.
Positive Action in Housing gives her nappies – there's the deliveries from Maslow's via Gabe and help from other charities too. But why, asks Gabe, are the essentials for this mother and baby provided by charity?
Many weeks later Venaruru will start to feel better. "I'm doing great," she'll text in October, even though the ache of missing her daughter never fades. But here in this room in July it's difficult to know that day is coming.
Arkan, the volunteer at Maslow's who picks out and bags up the clothes for families like Venaruru's, gets such satisfaction from being able to help. "But Maslow's can't support everyone," he says. "We can't give everyone enough money."
He's an architect from Iran, forced to flee after protesting against his government's theocratic regime. He wishes people could just be kind and stand in solidarity with each other. He he'd like to know why even after the stabbing at the Park Inn authorities didn't do more.
"On the Sunday [two days after the incident] I got a call to say people really need help. I went there and some people had not been able to change their clothes, some were still in shorts. We brought mobile phones, prepared clothes and gift cards."
And with 200 people still in hotels at the time of writing, other issues persist there. Last month charity Refuweegee got a call to support a family of six – four children between three and 15 along with two parents – who were accommodated at McLay Guest House because Mears had no other accommodation. They stayed for four nights, including one confined to their room due to Covid cases.
"The process of that was so unnecessarily arduous for them," says Refuweegee founder Selina Hales.
The charity's success in helping people can feel like a double-edged sword."Because we provide things the worry is that the government doesn't need to, that it can argue that people are getting on just fine," explains Selina. "It's a constant weigh-up." Ultimately, she says, if they don't, people will simply go without.
So the charities keep on providing. And Arkan smiles, to show he will stay positive, despite the worry, despite the fact that his claim to stay in the UK was refused just weeks after lockdown. "Sometimes people tell me they got refused and I say to them: "I got that letter too. But life is not finished yet."
The UK Government claims that people like Arkan should just go home. But speak to those who have successfully appealed a refusal and it no longer seems that simple. More than 40 per cent of asylum cases are won at appeal.
"Everything will be ok in the end," said Beatle John Lennon. "If it's not ok, it's not the end." Ako Zada, a political campaigner from Iraqi Kurdistan, can relate to that.
In 2012 his asylum claim was refused and charity Y-People, who then held the Home Office accommodation contract, changed the locks. He slept in the Glasgow night shelter for destitute asylum seekers, appealed and won his right for refugee protection under the 1951 convention.
In recent months Ako has been volunteering help to those in hotels, aiming to bring hope as well as donations. "I tell them to be strong," he says. "I tell them that many years ago I was living near here, that I became destitute but now I'm here and I'm able to support you."
But he worries that things are getting worse. "I can't see that the system has changed positively in any way. And now coronavirus is making everything harder. People are getting really desperate."
In Ruchill, a deprived area in north Glasgow, it has been 20 days since Karwan moved out of a room at the Mercure Hotel into this shared flat.
He was moved there from the destitution night shelter. Others – 324 in all – were transferred from expensive serviced apartments to hotels where Mears says they could be "better supported, with three meals a day, en-suite facilities, and on-site health and welfare services".
Asylum seekers were given just a couple of hours to pack before being moved. Landlords of these flats – reportedly booked through Business Travel Direct – were not given notice either. It is only now that agreements are being finalised to pay them, after they claimed they were left tens of thousands of pounds out of pocket.
Karwan was at the hotel for five months and claims he didn't eat the food provided, instead relying on donations to provide enough money to buy one meal a day.
A Kurdish association gave him the Primark voucher that bought smart new clothing, along with cash for a haircut.
But he claims he struggled to get anyone to take his health concerns seriously. One day he started bleeding badly – due to hemorrhoids, it later emerged – but waiting hours to be seen was frightening and left him feeling let down. Later, with his mental health declining, he started to self-harm.
Mears stresses that the food is based on NHS nutritional guidelines and its daily menus are regularly reviewed. It says an NHS health team attends the hotels to provide – or help people access – whatever help that is needed. That includes mental health support, such as referrals to specialist services.
But Karwan feels he wasn't listened to. It is only since moving that he's had a GP appointment, he claims. "If people had the courage to talk about it, everyone who was in those hotels would tell you that being in those hotels is like dying," he says.
"If they had put us in a cheap hotel but kept our financial support it would have been better. If there was justice, whoever made the decision to do this would have been investigated."
There's some good news – emergency support Karwan has started getting in recent weeks means he can now buy £39.60 worth of food a week with an Aspen card. But he still can't access cash.
He is grateful for the help he's had but doesn't want to rely on either hand-outs or the state. All he wants is permission to work, denied to all asylum seekers, and freedom to look after himself. "In my country I was a skilled person," he says. "I was an industrious person."
Here he feels eyes linger on the colour of his skin when he gets the bus. He feels the government does not like asylum seekers.
Racism, many claim, is the unspoken issue here. Anti-immigration rhetoric from the government in turn drives more explicit discrimination in our communities.
Ako Zada is among those who have noticed a growing racism on the streets, even here in Glasgow. "There's Brexit, there's Trump, there's Greece, Australia," he says. "The context is international.
"When I was seeking asylum the far right were not banging on the doors of migrants. The government was not putting people in military bases as they are in England. People are scared, worried they will be taken to England and detained or deported."
He says the Scottish Government needs to take its head out of the sand and develop long-term strategies to deal with racism. "We don't talk about [colonial] history at school so people don't understand why refugees come here", he says. "Silence might feel better than shame, but it won't help us face the future."
And meanwhile winter is coming, and cases of Covid-19 are rising daily again.
In-depth asylum interviews were cancelled in March and though the Home Office confirms it restarted them online in September, Wafa Shaheen, head of services at Scottish Refugee Council, is yet to meet anyone who has had one.
Wafa came here with her family from Baghdad back in 1996, the year of US Operation Desert Strike. Back then there was no separate system of asylum support and housing – it was provided by Glasgow City Council. For her claiming asylum was a far easier proposition.
Now she's seeing people's mental health declining due to the strain of constant uncertainty on multiple fronts. "The added pressure is beyond imagination," she says.
She, like many others, claims many problems can be traced back to the privatisation of asylum housing. Before Mears won three Home Office contracts worth £1bn to provide asylum accommodation contracts in Scotland, Northern Ireland, Yorkshire and the Humber in January, there was Serco.
It was hoped Mears would fare better. But almost immediately problems were being reported – from broken boilers to lack of action to make repairs. Between September and March the company was fined £3.1m by the Home Office. Meanwhile this year's annual report revealed profits increased to £37.7m.
It has committed not to change locks of those who have been refused asylum, as Serco did before legal challenges, which it ultimately won. But the threat of eviction remains for anyone whose claim is turned down.
Ultimately, says Wafa, the answers lie with the Home Office. "The solution to the impossibility of claiming asylum during a pandemic could be simple," she says. "Give people temporary status. Because we don't know when this [pandemic] will end. We're not calling for open borders – but we are calling for humane treatment and policy that reflects that."
Mears acknowledges that this has been a difficult time for its residents, and for staff and support organisations too. It's worked hard to keep people safe, it says, with only a small number of Covid-19 cases amongst asylum seekers in Glasgow.
The Home Office reiterates it is "determined to introduce a new system that is compassionate towards those who need our help, welcoming people through safe and legal routes."
And for people in the asylum system, the uncertainty of life continues. Venaruru takes Kimberley for a walk in the chilly sunshine, Arkan looks forward to getting back to sorting donations at Maslow's.
In Cardonald it is just over 100 days since Hevas, Gloria and Anthony got their bikes. Anthony goes to nursery, his parents study English on Mondays and Thursdays. There is no news yet about their asylum claim. But meanwhile they ride the city's streets on their bikes, cross its rivers and climb its hills, and keep taking one day at a time.